Vintage Treasures: Mustapha and his Wise Dog by Esther M. Friesner
Vintage Treasures: Mustapha and his Wise Dog by Esther M. Friesner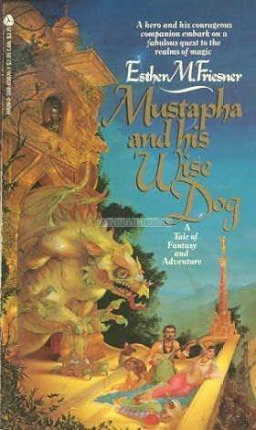 Esther M. Friesner's first novel, Mustapha and his Wise Dog, was a considerable success and it launched her lengthy and very productive career as a fantasy author and editor. Since it appeared in 1985, she has produced over 40 novels, over half a dozen anthologies, and more than 180 short stories.
Mustapha was a humorous fantasy and, at a slender 175 pages, a very quick read. It was also one of the few fantasies with an Arabian setting on the shelves in the mid-80s (or even today, for that matter). It became the first of the four-volume Chronicles of the Twelve Kingdoms series, which continued in Spells of Mortal Weaving (1986), The Witchwood Cradle (1987), and The Water King's Laughter (1989). Here's the book description:
Spells, Enchantment, and Treachery

Some tales are told for gold; some for joy. But who would guess the ancient storyteller's purpose in beguiling the children of the bazaar with the strange story of Mustapha and His Wise Dog…

Mustapha, young and clever, was outcast by his own brothers to wander in a dangerous land with only his magical, mischievous dog Elcoloq at his side. They were the unlikely warriors chosen by the gods to challenge the evil rising to threaten the world. They were the defiant ones willing to venture into the kingdom of powerful warlocks and seductive witches only to discover the fantastic journey yet awaiting them… a destiny of unforgettable adventure filled with dread demons and a treacherous lady… an awesome odyssey to a country of death, beauty… and a storyteller's secret.
Mustapha and his Wise Dog was published in 1985 by Avon Books. It is 175 pages, priced at $2.95 in paperback. The gorgeous cover art is, sadly, uncredited. The book has been out of print for over 25 years and there is no digital edition. Used copies are easy enough to find, but this is one title ripe for a new edition — digital or otherwise.