Black Static #43 Now on Sale
Black Static #43 Now on Sale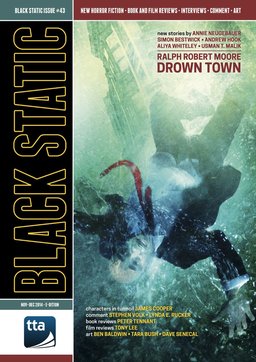 Black Static is a British magazine of dark fantasy and horror, edited by Andy Cox. It used to be called The 3rd Alternative, until it was acquired by TTA Press, the publishers of Interzone and Crimewave, and was relaunched as Black Static in 2007.
I reported on the first issues of Black Static I purchased, issues 40 and 41, back in October. I enjoyed both, and thought the magazine was deserving of regular coverage here at Black Gate. (Besides, we Black publications need to stick together.)
The November–December issue contains short stories by Ralph Robert Moore, Usman T. Malik, Simon Bestwick, Annie Neugebauer, Andrew Hook, and Aliya Whiteley. The cover, for Ralph Robert Moore's 'Drown Town,' is by Ben Baldwin; interior illustrations are by Ben Baldwin, Tara Bush and Dave Senecal.
The magazine's regular columns include Coffinmaker's Blues by Stephen Volk and Blood Pudding by Lynda E. Rucker (comment); Blood Spectrum by Tony Lee (DVD/Blu-ray reviews); and Case Notes by Peter Tennant (book reviews). This month Tennant's column includes a lengthy interview with James Cooper.
As we've mentioned before, magazines like Black Static are completely dependent on fans and readers to keep them alive. I hope this magazine survives for a good long time — but it won't without reader support. In that spirit, I am very happy to shine a spotlight on Black Static. If it sounds intriguing, I hope you'll consider buying an issue next time you find yourself browsing the magazine rack.
Issue 43 is nearly 100 pages and comes packed with new dark fantasy and horror, and top-notch art. As usual, the interior art adds enormously to the professional look of the magazine. Here's the opening spread for "Drown Town" by Ralph Robert Moore (art by Ben Baldwin)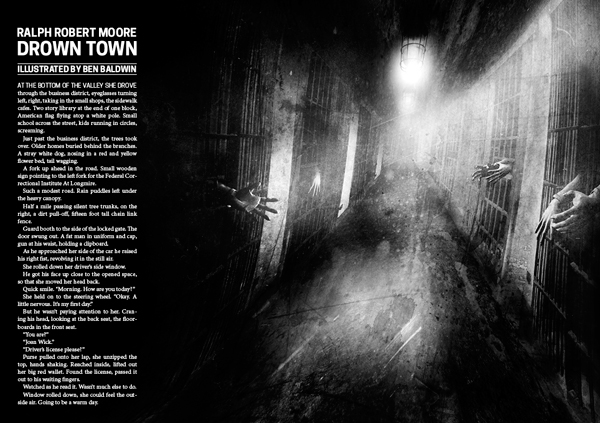 And here's "Ishq" by Usman T. Malik (art by Tara Bush)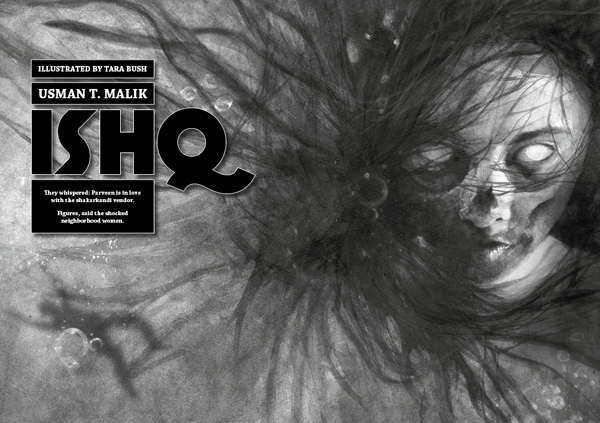 And "Black Lung" by Andrew Hook (art by Dave Senecal)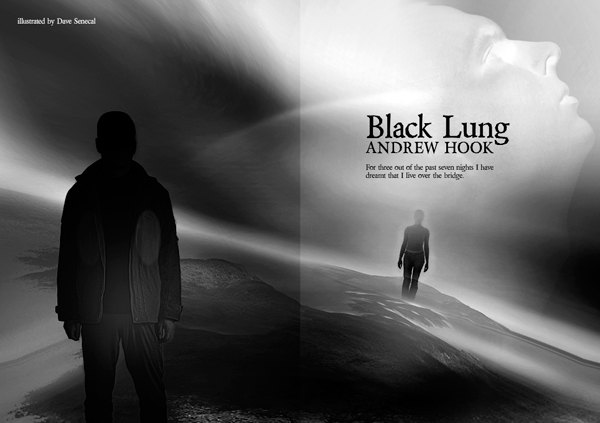 While we're at it, here's a snap of Tony Lee's Blood Spectrum DVD/Blu-ray review column.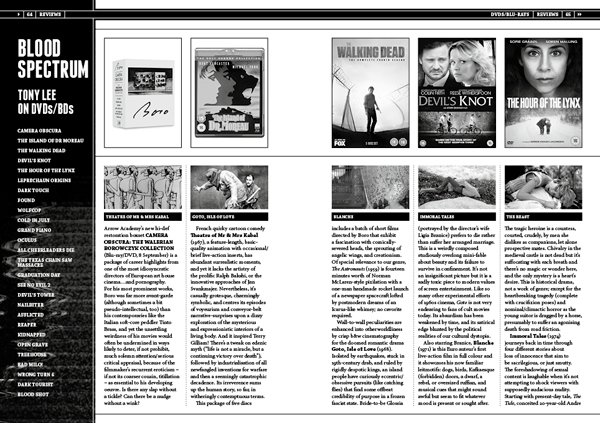 See more details and excerpts from issue 43 at the TTA website.
We last reported on Black Static with issue #41.
Black Static is edited by Andy Cox, and published by TTA Press. Issue #43 is cover-dated November-December 2014. It is 96 pages, priced at £4.99. Copies are usually around $9.99 here in the US. A six-issue subscription is £27 (UK) and £33 in the US. Order right from the TTA Press website.