Emperor of Thorns by Mark Lawrence Wins the 2014 David Gemmell Legend Award
Emperor of Thorns by Mark Lawrence Wins the 2014 David Gemmell Legend Award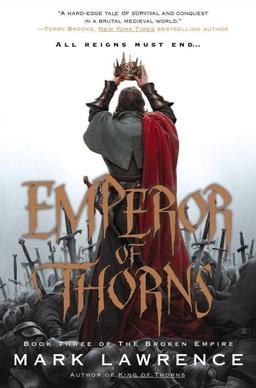 Mark Lawrence's Emperor of Thorns, the final volume of The Broken Empire trilogy, has won the David Gemmell Legend Award for Best Fantasy Novel of 2013.
The David Gemmell Legend Award (DGLA) is a fan-voted award administered by the DGLA. This is its sixth year; it was first granted in 2009.
The DGLA also recognizes the top debut fantasy of the year and best cover art. This year, the Morningstar Award for Best Debut Novel went to Brian McLellan for Promise of Blood and Jason Chan received the Ravenheart Award for Best Cover Art for his cover for Emperor of Thorns.
The nominees for the 2014 Legend award also included The Daylight War by Peter V Brett, The Republic of Thieves by Scott Lynch, A Memory of Light by Brandon Sanderson & Robert Jordan, and War Master's Gate by Adrian Tchaikovsky. See the complete list here.
The previous winners of the award were:
Andrzej Sapkowski's Blood of Elves (2009)
Graham McNeill's Empire: The Legend of Sigmar (2010)
Brandon Sanderson's The Way of Kings (2011)
Patrick Rothfuss' The Wise Man's Fear (2012)
Brent Weeks's The Blinding Knife (2013)
Complete details are available at the DGLA website.
Congratulations to all the winners!