Experience the Joy of the Pulps With The Incredible Pulps
Experience the Joy of the Pulps With The Incredible Pulps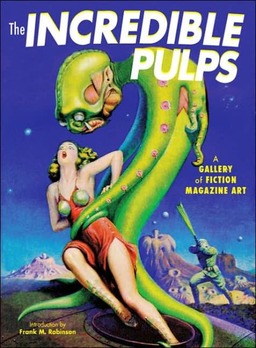 We've been chatting a lot about pulp fantasy recently — for example, in our recent explorations of Appendix N, Unknown magazine, escaping our genre's pulp roots, forgotten pulp villains, Clark Ashton Smith's Martian pulp fiction, and much more.
I occasionally get asked what I mean by "pulp." It's not the most intuitive term, I'll grant you that, especially for younger readers. For them, if it means anything it usually conjures up images of Tarantino's Pulp Fiction, and perhaps vague echoes of noir detective stories.
"Pulp fiction" means the fast-paced genre stories written for the popular magazines of the 1920s, '30s and '40s, and modern fiction written in conscious emulation of that style. The most popular of the pulp magazines, including Argosy, Adventure, All-Story Weekly, and Detective Story, had reliable circulations in the hundreds of thousands. They cost a quarter or less, and were printed on cheap (pulp) paper, frequently with ragged, untrimmed edges.
The pulps are still discussed and collected today for a number of reasons. Several of the most important writers of the 20th century — including Edgar Rice Burroughs, Sax Rohmer, H.P. Lovecraft, Ralph Milne Farley, Raymond Chandler, Agatha Christie, Louis L'Amour, and Harold Lamb — got their start in the pulps. They featured some of the most famous heroes of the early 20th Century, including Doc Savage, The Shadow, Conan, Buck Rogers, Tarzan, Zorro, and many others.
But the best fiction from the pulps has been reprinted many times and — unless you're Howard Andrew Jones, Stephen Haffner, or John C. Hocking, on the trail of an obscure or neglected author — you rarely dig through pulps for the fiction any more. No, there's really only one reason most of us still collect pulps. And that's the fabulous covers and artwork.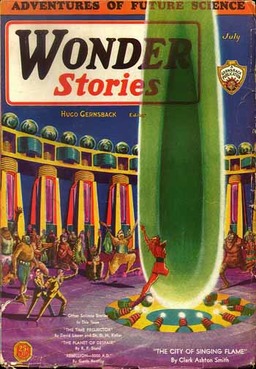 While most of the best fiction from the pulps has been collected in inexpensive editions over the decades — in countless paperbacks like Sax Rohmer's The Trail of Fu Manchu, Robert E. Howard's The People of the Black Circle, Manly Wade Wellman's The Complete Hok the Mighty, Donald Wollheim's Tales of Outer Space, Isaac Asimov's Before the Golden Age, and E.R. Bensen's The Unknown (just to name a few) — that's not true of the artwork.
True, there are a small number of expensive coffee table books that collect samples of cover art — both survey books, like David Kyle's marvelous A Pictorial History of Science Fiction and Earl Kemp and Luis Ortiz's Cult Magazines: A to Z, as well as individual retrospectives, like Frank R. Paul: The Dean of Science Fiction Illustration, or the upcoming Virgil Finlay book from Tattered Pages Press and American Fantasy Press .
But $40 coffee table books aren't passed around excitedly among friends the way paperbacks are.
They're not shared or loaned out, or the object of impulse purchases. They're not read and re-read until the spine collapses.
In short, authors, if they're lucky, can find a robust second life with new a generation — or multiple generations, as is the case with Edgar Rice Burroughs and H.P. Lovecraft. Not so with most artists, who are often quickly forgotten by all but a handful of experts in the field.
That's why a book like The Incredible Pulps is such a delight.
It's a compact and inexpensive paperback — a slender 176 pages — that's absolutely crammed with reproductions of hundreds of pulp magazine covers, all in glorious color. Best of all, it fits comfortably in your hand, and is ideal for leisurely thumbing through, unlike an oversize art book.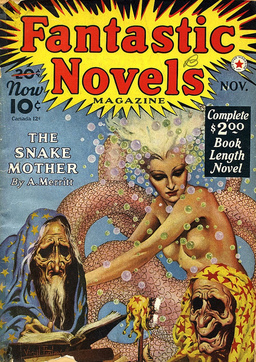 You might think the artwork would suffer from the smaller form factor — but in fact the production quality is so high that the covers are wonderfully crisp and dazzlingly bright. The colors pop off the page.
Most of the art is reproduced full page, but there are a few cases where three covers will be tightly arranged on a single page.
The covers shown on this page — the July 1931 Wonder Stories by Frank R. Paul, above right, and the Virgil Finlay cover for the November 1940 issue of Fantastic Novels — are just two of the hundreds of samples included in the book (click on the images for bigger versions).
There's not a lot of text here to distract you from the art, which is a good thing (although all the artists are credited.) Frank M. Robinson, one of the greatest collectors in the field, provides an enthusiastic and educational introduction, looking at the rise and fall of the pulps.
The Incredible Pulps is a real bargain, and if you have any interest at all in the magical era of pulp fiction, I highly encourage you to find a copy.
The Incredible Pulps was published by Collectors Press in June 2006. It was designed by Kevin A. Welsch, and edited by Lindsay Brown. It's 175 pages in a compact format, only slightly larger than a traditional paperback. It's priced at $14.95, and gets my highest recommendation.
[By the way, if you're interested in flipping through actual pulp magazines — like the July 1931 issue of Wonder Stories, containing Clark Ashton Smith's "The City of the Singing Flame" — have a look at the marvelous pulp browser at Pulpmags.org. You can read complete issues, zoom in on the artwork, and enjoy the issues cover to cover. It's the next best thing to holding the magazine in your hands.]