New Treasures: Cult Magazines: A to Z
New Treasures: Cult Magazines: A to Z
You get to meet a lot of great people at science fiction conventions. For some, the draw is the Featured Guests, and it's certainly cool to meet Neil Gaimen, Pat Rothfuss, John Scalzi, Connie Willis, and other top-selling authors.
For me though, the true delights are in meeting exciting writers and artists I'm not always familiar with. A few years ago, as we were setting up our booth at Dragon*Con, author Rob Thurman, who had the booth next to us, wandered over and introduced herself. She turned out to be extremely cool and delightfully entertaining, and when I finally staggered home, bone weary from five days in Atlanta, I dropped into my big green chair with one of her Cal Leandros novels. If it hadn't been for lucky booth placement, I might never have discovered what an entertaining writer she was.
The same thing happened at Worldcon in Chicago two weeks ago. During the rare slow moments in the Dealers' Room, I was able to wander a bit and check out the nearby booths. I discovered to my surprise that we were next to Nonstop Press — publishers of Science Fiction: The 101 Best Novels 1985-2010, The Collected Stories of Carol Emshwiller, and Cult Magazines: A to Z.
Nonstop's Emshwiller: Infinity x Two: The Art & Life of Ed & Carol Emshwiller, by Luis Ortiz, is one of my favorite art books. The distinguished Mr. Ortiz was in the booth, and I was able to introduce myself. He had several intriguing new titles on display and — keeping a wary eye on the empty Black Gate booth — I was able to peek at them.
My eye was drawn immediately to Outermost: Life + Art of Jack Gaughan, a beautiful 176-page hardcover packed with over 500 images, many familiar from countless Ace and DAW paperback covers of the 60s and 70s. Over lunch, Rich Horton had talked about Robert Silverberg's captivating memoir of writing SF in the 50s, Other Spaces, Other Times: A Life Spent in the Future, and there it was. I couldn't resist Damien Broderick & Paul Di Filippo's entertaining Science Fiction: The 101 Best Novels – 1985-2010 either.
But the most fascinating book on the table, by a considerable margin, was Cult Magazines: A to Z, edited by Earl Kemp and Luis Ortiz, a gorgeous oversized softcover jam packed with articles and full-color pictures of hundreds of pulp, horror, science fiction, fantasy, comic, monster mags and men's magazines published between 1925 and 1990.
I was entranced almost at once. Here's what I read on the back page:
The Secret life of America in the 20th century is displayed in the thousands of specialized magazines produced between 1925 and 1990.This period can be seen as a precursor to the Internet age where every fad, taste, obsession, and hush-hush desire is gratified.The list of cult magazines is legion: Black Silk Stockings, Castle of Frankenstein, Gee-Whiz, Jaybird, Amazing Stories, Boing Boing, Bronze Thrills, Ballyhoo, Doctor Death, Dream World, Eyeful, Exposé, Fate, Flying Saucers From Other Worlds, Girls in Orbit, Magazine of Horror, Monster Times, Phantom Detective, Humorama, Psychotronic, Search & Destroy, Satana, Red Channels, Realist, Sexology, Spicy Stories,The Spider,The Nudist,True Thrills, Spy, Sunshine & Health,Tiger Beat,True Strange,Web Terror,Whisper,Weird Tales, and Zip, to name just a few. Nothing was beyond the scope of imaginative publishers and eccentric editors such as Bernarr Macfadden, Calvin Thomas Beck, Henry Steeger, Raymond A. Palmer, Hugo Gernsback, Robert C. Sproul, Frank Harris, Ralph Ginzburg,William Lawrence Hamling, H. L. Gold, Lyle Stuart, James Warren, Robert A.W. Lowndes, Pete Millar, Myron Fass, and Milton Luros. In many cases their goals were to make money, but they also created exuberant populist art and literature. Cult Magazines: from A to Z is an encyclopedia of midcentury America at its sub-culture best. Oversized trade paper with over 400 full color images.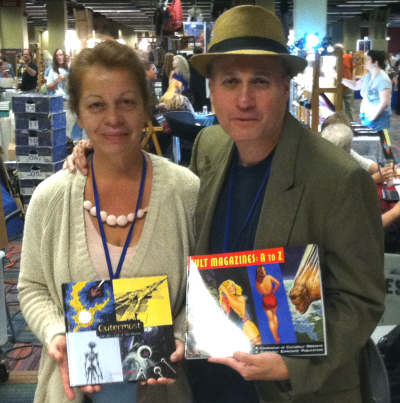 Virtually every page held something fascinating. And of course, scant moments after I picked it up customers arrived at my booth.
I hastily paid for Cult Magazines — as well as Science Fiction: The 101 Best Novels and the Silverberg book — and beat it back to my booth. There I pored over it for the remainder of the afternoon, captivated by the detailed entries on some of my favorite magazines, including F&SF, Science Fiction Eye, Weird Tales, Coven 13, Mad Magazine, Wonder Tales, Planet Stories, and Astounding/Analog.
Equally fascinating were the entries on magazines I'd never heard of. This list included Castle of Frankenstein, Flying Saucers, Mystique, Rascal, Sea Monsters, Tales of the Killers, Mad Monsters, Eros, Strange Suicides, Space Wars, Punk, Sexology, True Weird, Monster Mania, and countless others.
While the gorgeous layouts — with flawless color reproductions of hundreds of covers, and not a few interiors — were what drew me into the book, what kept me reading was the text.
The book is laid out like an encyclopedia, with titles in alphabetical order. Just as intriguing as all the behind-the-scenes info on the writers and editors behind each magazine was the frequently riveting accounts of the various publishing houses and shoestring operations that produced the magazines.
The book does has its quirks. When I eagerly turned to the back to find the entry for Hugo Gernsback's Wonder Stories, I found this curious note:
WONDER STORIES
see Sexology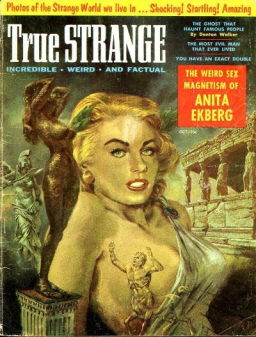 What the heck? Why was I being directed to something called "Sexology" to read about one of the most important SF pulps of the 1930s? And what the hell is Sexology??
It makes sense, as it turns out. The book goes into quite a bit of detail on the various ups and downs of the magazine publishers — which frequently makes even more fascinating reading than the juicy tidbits on the eccentric editors and writers. As a result, the book is loosely organized around the pivotal figures in American cult magazine publishing.
Turning to the entry for Sexology, we find a huge six-page article on none other than Hugo Gernsback, and the fascinating saga of his arrival from Luxembourg in 1904 and the publishing empire he built. An empire that lasted, in one form or another, from 1908 to 2002 and produced an incredible range of magazines, including Science & Invention, Amazing Stories, Wonder Stories, Sexology, Your Body, Motor Camper & Tourist, French Humor, Pirate Stories, and many others.
Sexology, which was founded in 1933 and ran until 1978 (far longer than any of his pulp magazines, with the exception of Amazing and Radio Electronics), was intended to promote sexual health and hygiene. It covered some pretty daring topics for the time, such as venereal disease, prostitution, sexual dreams, birth control, famous sex scandals, and castration.
And that's the true charm of this book. An innocent search for Wonder Stories led to fifteen minutes of reading about a groundbreaking magazine on sexual health that began in the pulp era. Who knew?
I found myself saying "Who knew?" a lot while reading this book. Something else nobody knows: just how many people came by my booth and waved money at me while I had my nose stuck in this book. Ultimately, I think it cost me a lot more than the $34.95 cover price.
And it was worth every penny.
Cult Magazines: A to Z was published by Nonstop Press in September, 2009. It is 224-pages in oversized trade paperback and priced at $34.95. For a limited time Nonstop Press is offering $10 off all their titles, including Cult Magazines. You can order directly from their website.