Michael Penkas Promoted to Black Gate Website Editor
Michael Penkas Promoted to Black Gate Website Editor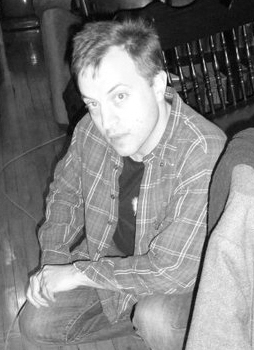 We are very pleased to announce that, effective August 15, Michael Penkas has been promoted to Black Gate Website editor.
Michael Penkas moved to Chicago in 2004 and since then has performed at various open mic events. He previously worked as a copy editor and general assistant for the long-running Twilight Tales book/reading series. His short stories have been published in Midnight Echo, One Buck Horror, Uncle John's Bathroom Reader, and Shock Totem, among others.
Michael sold his first short story to Black Gate in 2011. His first blog post for us was a review of Brendan Detzner's short story collection Scarce Resources in November of 2011; in the last few months he's reviewed Matt Wagner's Mage: The Hero Discovered, Ted Naifeh's Courtney Crumrin and the Night Things, and Jonathan Carroll's The Land of Laughs, among others.
Michael takes over from C.S.E. (Claire) Cooney, who was promoted to website editor in January of 2011. Claire's relocation to Rhode Island — and the growing success of her recent books, including How to Flirt in Faerieland & Other Wild Rhymes — has left her less time for other activities. Claire brought enormous energy and drive to the role, and she attracted many new bloggers to our small community. She will be much missed, although she promises to continue to blog for us when time permits.
Michael Penkas has been working hard behind the scenes for the past few months as Assistant Website Editor, bringing a new level of professionalism to the blog. We are pleased and very proud to have him officially take over the reins as our new Website Editor.
For a complete list of the folks responsible for Black Gate, visit our Staff Page.