Mage: The Hero Discovered by Matt Wagner
Mage: The Hero Discovered by Matt Wagner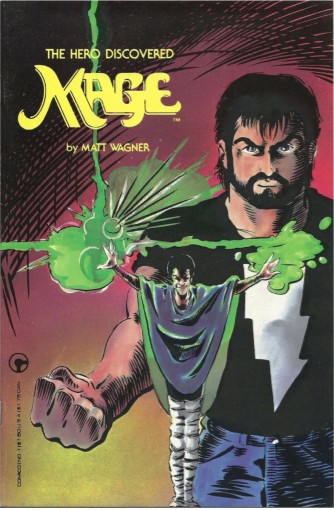 It's nothing new: taking old mythic tropes and adapting them to modern-age stories. The social commentary thinly-veiled as mysticism, the peek-a-boo mythology references, the obligatory explanation for why most people in our modern times don't notice magic, the unassuming youth who will one day become a great hero … we've all read them.  he secret is in the execution.  How well is this ancient story re-told? How compelling are the characters? Are the truths revealed deep or trite?
Matt Wagner was only twenty-two when the first issue of Mage was published and it's surprising that someone so young could write something both this introspective and this self-aware. His hero, Kevin Matchstick, is already a cynical, disillusioned man at the story's beginning. He acts like a man who already has the weight of the world on his shoulders, yet has no true responsibilities. It's telling that the mysterious wizard who approaches him with news of his great potential is named Mirth. The journey that follows over the next fifteen issues concerns Kevin's quest to understand and fight forces of supernatural evil; but it's just as much Mirth's quest to make Kevin stop being a jerk. The adage that the only thing evil needs to succeed is for good men to do nothing rings through this series.
Kevin, Mirth, the supporting cast and even the incidental characters are written with a surprising depth. No one is merely a follower (on the side of good or evil), each having his or her own reasons for the decisions made. The storyline is equally divided between action scenes and "downtime" where the heroes relax and talk about how they see the world and their place in it. The baseball-bat-wielding Edsel and supernatural civil servant Sean Knight work just as hard to guide Kevin towards self-discovery as they do covering his back during fights with quintuplet casino bosses, hordes of redcaps and the occasional succubus. They also have to face down a dragon. And a staple gun.
This series has been in and out of print for years and a collected edition shouldn't be difficult to find. But if you have the means, definitely find a comic shop that carries the original back issues. There you'll get the letter page debates on the nature of magic and morality, Matt Wagner's comments on the state of the comic industry and the amazing Grendel stories (originally published in the back of each issue as a series of four-page mini-stories). Volume One is subtitled The Hero Discovered. Fifteen years later, there were another fifteen issues subtitled, The Hero Defined. And, someday, we may see the final volume, "The Hero Denied". Until that day, magic is green.