Courtney Crumrin and the Night Things by Ted Naifeh
Courtney Crumrin and the Night Things by Ted Naifeh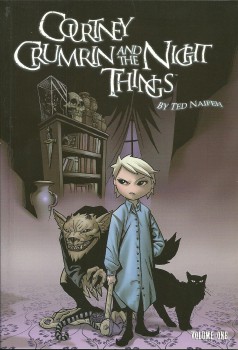 Be honest.  If you had magical powers when you were a teenager, what would you have done?  How long would you have walked the path of righteousness before cursing the school bullies?  Before casting a spell to make yourself popular?  Before just flat-out killing bad people?  Would you have made friends with elves … or goblins?
Ted Naifeh's series of fantasy comics for young people (the back label says it's appropriate for children ages 7 and up), introduces us to Courtney Crumrin on the day her vapid parents move in with her grand-uncle, Aloysius.  After a few restless nights, she discovers that her grand-uncle is more than simply a curmudgeonly hermit.  He's also a wizard, more feared than respected by his fellow magicians, occasionally called upon to handle those supernatural problems that others don't want to handle.  Going through his collection of grimoires, she begins her own self-guided education in the magical arts.  In the first volume, she traps a child-eating goblin, enchants herself to become the most popular girl in school, travels to the faerie kingdom to swap out a changeling for a human infant, and gets replaced by a doppelganger who turns out to be nicer than her.
Courtney is an intelligent young woman who's just naturally drawn to the darker parts of this world, a cynical yet moral protagonist.  These early stories tend to rely a bit much on the "and then her uncle saved her and put everything right" solution; but they effectively convey a child going through those early learning stages, both of magic and of the harsh truths about life.  I'm glad that, after years out of print, the original volumes are being reprinted, even as a new series of adventures begins.