Reimagining Star Wars as West Wars
Reimagining Star Wars as West Wars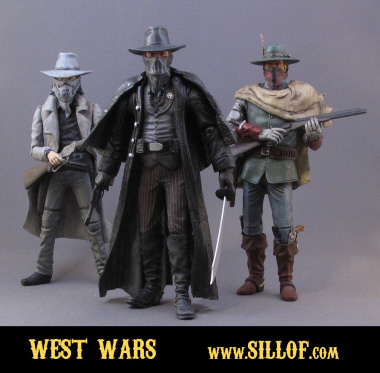 I usually ignore the endless stream of Star Wars fan creativity here on the blog — Lego remakes, the Silent Star Wars, and numerous others. Black Gate is all about shining a light on neglected fantasy… if you think Star Wars is neglected, it's because you're blind and deaf and you live on Easter Island.
But every once in a while a simple idea comes along that reduces me to a 12-year old Star Wars fanboy again. That's what happened yesterday when I discovered Sillof.com, the brainchild of Indianapolis, IN, sculptor Sillof, who specializes in making custom action figures and also makes props for films.
Sillof has created a line of action figures called West Wars, featuring a brilliantly realized cast: Luke S. Walker, a young man living on the outer borderlands with his poor aunt and uncle, Leah Orango, daughter of one of the most prominent ranch families in the territory, "Old" Bennet Kennelly, one-time sheriff who was driven into hiding when his former deputy turned on him, and the villainous Sheriff Akan "Death" Vardas, enforcer for the corrupt robber barons and railroad tycoons.
The entire cast is instantly recognizable, even though they're all in period garb. Sillof has done the same with other periods, giving names and faces to the cast of Samurai Wars, World Wars, Noir Wars, Serial Wards, and others.
Besides making me daydream of someday watching a version of Star Wars set in a western town — sort of like watching MacBeth set during the US Civil War, or Romeo & Juliet in 1950s Brooklyn, both of which I have done — Sillof's creations remind us just how universal the themes of Star Wars are. And in fact, just how fluid story is… how easy it can be to move the props of narrative to a different stage to make it fresh spin.
Not to mention that they vindicate a decades-long fascination with action figures. Thanks, Sillof!  You the man.