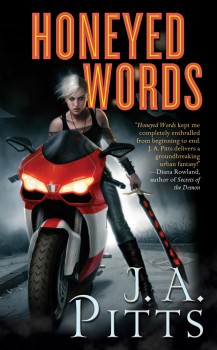 Honeyed Words
J.A.Pitts
TOR (416pp, $14.99, Paperback, July2011)
Reviewed by Beth Dawkins
Honeyed Words is the second book in the Sarah Beauhall series. Sarah decides to take her girlfriend Katie to a concert in Vancouver for her birthday. When it is over Sarah snags passes for the after-party. There Sarah tries to stop the singer, Ari, from being abducted by what they believe to be dwarves. Afterwards Sarah and Katie run into two trouble-making elves, Gletts and Skella, who only make the couple's stay in Vancouver even more confusing. There are also some issues back home when Sarah is asked to help Anezka the blacksmith out. The moment Sarah steps onto Anezka's property she knows something is wrong. Soon Anezka starts acting crazy, and Sarah must ask for help from an unlikely source. While these events don't seem connected, they come together to unleash a hell storm Sarah and Katie must clean up.
Sarah, the heroine for Honeyed Words, is a strong female lead. She has grown as a character since the first installment, Black Blade Blues, and it shows. She is working past her issues with her sexuality, and shows much more attention to her girlfriend, Katie. There is even a steamy shower scene between the couple. While she has worked things out with Katie, she isn't carrying around the magic sword she reforged, Gram. She mentions a great deal of how the sword calls to her, how it is dreaming of blood, but we don't see the sword blazing a path of destruction until the very end.
The story is told mostly in first person — Sarah's POV, but some chapters switch to third person, and followed the perspective of a scheming character. These chapters were by far not as interesting. They felt jarring in the over-all flow, and the characters themselves were less fun to read.
The story didn't kick start until a little more than halfway through the novel. It starts strong with the singer getting kidnapped. Minus an exciting opening, most of it felt meandering. The installment before Honeyed Words carried a thread of tension throughout the story that feels lost in this novel. When Sarah meets the blacksmith Anezka and a kobold named Bub, the story starts to make a little more sense. Something is very wrong with Anezka's place, and Anezka starts to act extremely bipolar. How all the small events connected didn't pull me into the story. The battle scenes are well done, but the action and adventure in the previous installment held more excitement. It didn't build on a lot of the mythology that is already established in series. The build up to the end just wasn't there.
Some of the story takes place in Vancouver, and some in the mountains near Seattle. The world around Sarah doesn't take precedence when it comes to what is happening in her life. As in the novel before, the details in the forges and making things out of metal seem well researched, but I don't personally know much about making swords, or putting on horse shoes. It is more than enough to make it sound believable. Pitts does a good job with suspending disbelief when it comes to magical things like kobolds, elves and haunted forge. The elves and kobold are new editions to the story. All three were fun characters that were very enjoyable by themselves. I did have a problem with the magical powers of the elves. They can move through mirrors. The elves at times seem very good at opening the mirrors as gateways, and at other times it is hard for them. I also feel that Sarah's girlfriend Katie was used as a device to spike Sarah's anger, and pull her through the storyline. This is the second time Katie has been used like this. While Katie might have a few of her own powers budding, for the moment she feels like the perpetual damsel in distress.
Honeyed Words feels like a hodgepodge of events that do not seem related until the end of the novel. The story is not exciting as the first installment, and it didn't build on much of the mythology in the series. The novel doesn't expand on what Sarah is, or is becoming, nor does it give us any new information on her magical sword, Gram. Sarah has grown as a character, and this growth is organic to the story. The first installment, Black Blade Blues, is a stronger novel, and I would recommend reading it first before jumping into the series.
__________
Beth Dawkins can also be found at her blog Sweet – Books'n Stuff.