Beth Dawkins Reviews Honeyed Words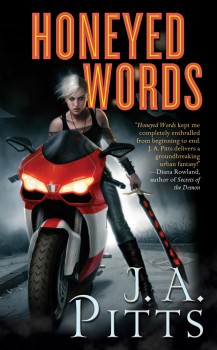 Honeyed Words
J.A.Pitts
TOR (416pp, $14.99, Paperback, July2011)
Reviewed by Beth Dawkins
Honeyed Words is the second book in the Sarah Beauhall series. Sarah decides to take her girlfriend Katie to a concert in Vancouver for her birthday. When it is over Sarah snags passes for the after-party. There Sarah tries to stop the singer, Ari, from being abducted by what they believe to be dwarves. Afterwards Sarah and Katie run into two trouble-making elves, Gletts and Skella, who only make the couple's stay in Vancouver even more confusing. There are also some issues back home when Sarah is asked to help Anezka the blacksmith out. The moment Sarah steps onto Anezka's property she knows something is wrong. Soon Anezka starts acting crazy, and Sarah must ask for help from an unlikely source. While these events don't seem connected, they come together to unleash a hell storm Sarah and Katie must clean up.
Sarah, the heroine for Honeyed Words, is a strong female lead. She has grown as a character since the first installment, Black Blade Blues, and it shows. She is working past her issues with her sexuality, and shows much more attention to her girlfriend, Katie. There is even a steamy shower scene between the couple. While she has worked things out with Katie, she isn't carrying around the magic sword she reforged, Gram. She mentions a great deal of how the sword calls to her, how it is dreaming of blood, but we don't see the sword blazing a path of destruction until the very end.
The story is told mostly in first person — Sarah's POV, but some chapters switch to third person, and followed the perspective of a scheming character. These chapters were by far not as interesting. They felt jarring in the over-all flow, and the characters themselves were less fun to read.