Beth Dawkins Reviews Black Blade Blues
Beth Dawkins Reviews Black Blade Blues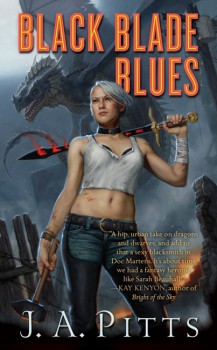 Black Blade Blues
J.A. Pitts
TOR (384pp, $7.99, April 2011 Mass Market)
Reviewed by Beth Dawkins
Sarah, the protagonist of J.A. Pitts' Black Blade Blues, is a twenty something blacksmith and props manager for a movie set. She works two jobs to pay her bills and student loans. On the movie set the lead man breaks her one-of-a-kind sword, and she decides to fix it. A man who claims to be a dwarf decides to help, and so the blade is reforged. The dwarf also insists that she must use it to kill a dragon, who is also an investment banker. After the blade it put back together, things start to fall apart for Sarah. Firstly, when things get serious with her girlfriend Katie, and then with her working relationships, everything dips out of control until Sarah is forced to acknowledge — and deal with — the paranormal aspects that are going on around her.
Sarah is a multi-layered character. She has anger problems, and is dealing with her sexuality. She doesn't want to be openly gay with her girlfriend Katie, but she wants to be in a relationship with her. She doesn't acknowledge the paranormal things that happen around her until she is forced to, and by that time her process of dealing with them is violent. After the sword is reforged, earthquakes start, and a homeless man who could be Odin starts babbling to Sarah. Instead of paying attention, her mind is more on Katie. After she has an argument with Katie, she sees a dragon for the first time and is so wrapped up in what might be going on around her (the paranormal), she doesn't make time to talk things out. There are some scenes towards the end where friends make a few jokes, and though danger is immediate, and the reader is told that Sarah only wants to kill, she still laughs. I wanted her either friendly or brooding; instead she is a middle ground character that was hard to identify with.
Black Blade Blues has a heavy dose of Norse mythology. Sarah has been chosen to kill dragons, runes appear on her skin that gives her magical abilities, and there is a lot of talk about her being 'his chosen.' The reader, like Sarah, doesn't know what any of it means. There is also a secret that her girlfriend Katie and Katie's brother have. What we do know is that there are dragons, and they are not the nice kind. I don't believe the mythology is dead on, and I didn't feel the need to go look it up. Instead it is a nice spin from the ordinary.
The story is not complicated, and it is something that has been seen before. Sarah tangles with a dragon, a story as old as time. There are some very nice changes in the urban setting that set Black Blade Blues apart from the majority of its vampire and werewolf counterparts. First off, the heroine is a moody female, but she likes women. Second off, there are other urban fantasy stories based off Norse Mythology, but this is my first, and was a nice change from all the lusty vampires. The battles are nice and the detail put into the fire-breathing dragon is solid. Sarah doesn't always come out on top and there is a fair amount of gritty detail.
Black Blade Blues is the first of a series, and it has a great deal of explaining to do. Sarah was hard to connect to, which slowed the book down. On the other hand, the strange Norse magic floating around is fun. Dragons, giants, dwarves and magical weapons make for some neat intrigue. This isn't the best Urban Fantasy around, but it was a nice switch from the same old vampires and werewolves.
__________
Beth Dawkins can also be found at her blog Sweet – Books'n Stuff.