The Land of Laughs by Jonathan Carroll
The Land of Laughs by Jonathan Carroll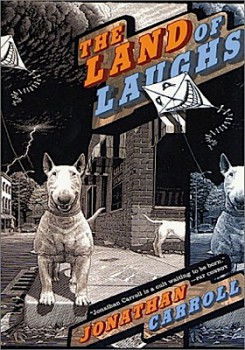 To start, this is the debut novel from my favorite author, Jonathan Carroll.  First published in 1980, The Land of Laughs has enjoyed a sporadic publication history (like most of Carroll's books), going in and out of print.  Unlike a lot of debut novels, the themes and voice found in his later books is already present and strong, making this an excellent place to start if you've never read anything by him.
The story opens with a disillusioned high school teacher, Thomas Abbey, taking a year off to write a biography of his favorite children's author, Marshall France.  Joining him is another Marshall France fan and brilliant researcher, Saxony Gardner.  After some early chapters spent doing basic background research, the two of them go to France's hometown of Galen, Missouri.  They are immediately greeted warmly by the townspeople and the author's daughter, but soon discover that the many secrets surrounding Marshall France's life, death, and work are being doled out slowly.  Eventually, Thomas realizes that they're too far in to the web of conspiracies to ever leave the town alive.
As with most of Jonathan Carroll's work, this falls into the uneasy genre of magic realism (which is not really the same as fantasy).  What makes him such an effective author is that he's able to infuse the more mundane elements (a budding romance, living in the shadow of a famous father, the obsessiveness of fans) with so much depth and power that they seem equally important compared to the more fantastic elements.  Reading his books, I am always left with the impression of a world in which everything is significant.  Perhaps it's because even the bit characters (the mortuary owners or Marshall France's agent or even the English bull terrier) are described so vividly.
The subject matter, how art influences the world, is obviously helped by this style of writing.  We see the obsession of both Thomas and Saxony's interest in Marshall France.  We see the almost religious devotion that France's daughter, Anna, has in protecting her father's legacy.  We see the excitement laced with disappointment as Thomas sees where his idol got his ideas, finding so much of it to be terribly mundane.  By the time the supernatural elements are introduced (and they're introduced in a delightfully off-hand, out-of-left-field manner), we've already become accustomed to strangeness.
By the novel's end, we've come to know the world of Jonathan Carroll's work, where the everyday and the supernatural exist side-by-side, complementing eachother.  Thomas Abbey's internal struggle with living up to his father's legacy is highlighted by his external struggle to survive his encounter with the deceptively idyllic town of Galen.  Not a word is wasted and the final lines of the novel provide the perfect sort of surprise ending, one in which all the clues have been laid out in previous chapters.  Absolutely worth your time.