James Enge's A Guile of Dragons Arrives
James Enge's A Guile of Dragons Arrives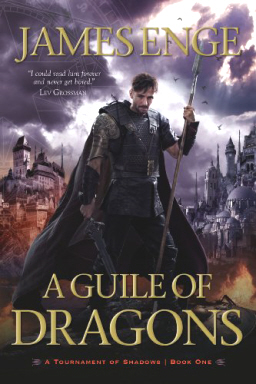 The official on-sale date isn't until August 24, but I've now received multiple reports that James Enge's A Guile of Dragons has arrived in stores. It's also available for purchase online. We can't postpone the party any longer.
James Enge's first published story "Turn Up This Crooked Way" — the tale that introduced Morlock the Maker to the world — was in Black Gate 8. Morlock appeared in virtually every issue of Black Gate for the next five years; his last appearance was the novella "Destroyer" in BG 14.
James' first Morlock novel, Blood of Ambrose, was nominated for the World Fantasy Award in 2010. It was followed by This Crooked Way, which collected a dozen short stories, including all six published in Black Gate, and The Wolf Age. A Guile of Dragons is the fourth in the series, and the first new Morlock book in almost two years. As we reported back in February, it is Morlock's origin story:
Before history began, the dwarves of Thrymhaiam fought against the dragons as the Longest War raged in the deep roads beneath the Northhold. Now the dragons have returned, allied with the dead kings of Cor and backed by the masked gods of Fate and Chaos.

The dwarves are cut off from the Graith of Guardians in the south. Their defenders are taken prisoner or corrupted by dragonspells. The weight of guarding the Northhold now rests on the crooked shoulders of a traitor's son, Morlock syr Theorn (also called Ambrosius).

But his wounded mind has learned a dark secret in the hidden ways under the mountains. Regin and Fafnir were brothers, and the Longest War can never be over…
The gorgeous cover is by Steve Stone. Click on the image at right to see the complete wrap-around image in HD.
A Guile of Dragons is 320 pages in trade paperback, published by Pyr Books. It is $17.95, and has an official on-sale date of August 24. But if you find it for sale and whisk it home before then, we won't tell anyone.