James Enge's A Guile of Dragons Coming in August
James Enge's A Guile of Dragons Coming in August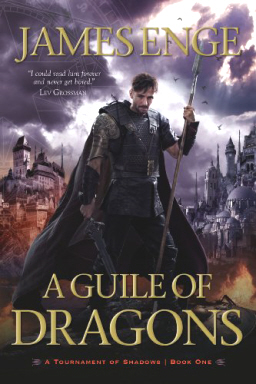 Nice to see the print medium can still get me news in a timely fashion (even if it's news that everybody else already knows by now).
Somewhere off the coast of Belize, on the balcony of a cruise ship about 100 miles from the nearest Internet access, I read in the latest issue of Locus magazine that Black Gate alumnus James Enge had delivered A Guile of Dragons, the first novel in A Tournament of Shadows, to Lou Anders at Pyr.
The novel is scheduled to be published on August 24. According to an interview with James at Old Game Reviewer that I dug up when I landed, it is Morlock's origin story:
The Wolf Age did well enough that Pyr signed me to another 3-book deal. Currently I'm finishing up an origin story for Morlock. It's called A Guile of Dragons and is due out next summer. It's very old school fantasy in some ways — dwarves, dragons, Merlin and Nimue. (No elves, though. Everyone has to draw the line somewhere.) And it also gives us a look at Morlock's homeland, which is a sort of anarchy where community needs are addressed by voluntary associations. It's a sort of utopia, really — with monsters. Most utopias don't have monsters, of course, but that's why they lack a certain plausibility.
Pretty cool indeed. The striking cover art is by Steve Stone. Looking forward to this one.