Back on Solid Ground
Back on Solid Ground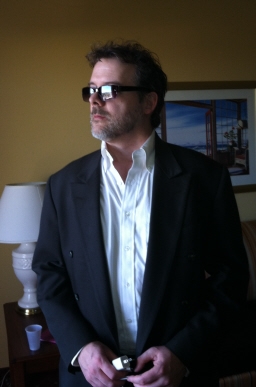 On Sunday February 5th, I returned to Chicago from a cruise with my family, my first vacation on a cruise liner and my first trip to the Caribbean.
It's good to be home. The cruise was amazing, but poor weather and rough seas (several days of cruising through 6′ to 9′ ocean swells) eventually took their toll. Surprisingly, I never got seasick, but I did have to abandon a delicious-looking slice of tiramisu when my son abruptly turned green across the dinner table, and rush him back to our cabin. My daughter followed minutes later, looking none too healthy herself.
It wasn't all bad weather and disappointment. The highlights were the excursions, including a sandbar 15 miles offshore of Grand Cayman where a colony of sting rays — trained by generations of fishermen who'd clean their catch in the quiet waters of the sandbar, and toss tasty fish intestines overboard — races towards any boat that approaches and cuts engines. In waist-deep water my three kids and I were mobbed by dozens of the creatures, which our guide characterized as "just like puppies." It was an apt description. Want to know just how diverse life is on this planet? Gaze into the alien eyes of a four-foot sting ray resting in your arms before it darts off. Amazing.
My children won't soon forget our dolphin encounter in the Honduras, either. We played with my new best friend, a 450-pound dolphin named Mauri, in the shallow waters of Anthony's Key resort on the island of Roatan, and swam with her pod for nearly an hour. Magical. I was also taken with the Mayan ruins of Coba on the Yucatan peninsula in Mexico, although it was a considerable hike into the jungle to reach them. Well worth the trip.
Most of the time I spent reading, however (and checking on my queasy patients, tucked into their bunks). I didn't finish half of the books I brought, but I was delighted to finally read The Dragon Masters by Jack Vance, and No Truce With Kings by Poul Anderson.  I was also captivated by Harry Connolly's first novel, Child of Fire, which I read on my Kindle. If I have time, I'll discuss more of my fiction discoveries here. But first, I have about 350 unanswered e-mail to dig through.