Cloning Mammoths — Will Neanderthals be Next? (We hope so)
Cloning Mammoths — Will Neanderthals be Next? (We hope so)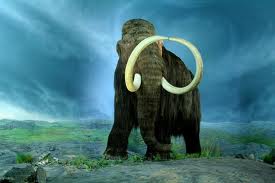 CNN is reporting that a team of Japanese, Russian and American scientists are attempting to clone a mammoth, an extinct beast from the ice age. Apparently, they've achieved recent breakthroughs by combining the genetic code of an elephant with the DNA of a shag carpet. The researchers hope to produce their little cloned bundle of joy within six years, which is just about as long as it took my wife Alice and I to produce a baby (if you count the three years it took to convince her to go out with me).
Mammoths are big.  Big big big. Hence, the name "mammoth." The word comes from the Russian mamont, meaning "humongous," or something like that. Probably. Anyway, Wikipedia reports the largest known species reached heights of 16 feet at the shoulder, and may have exceeded 12 tons. That's four times as much as my Uncle Phil's Hummer. Wherever they're doing the cloning, I hope it has vaulted ceilings.  And maybe a fenced yard, so the little tyke can go outside to do his business.
Incredibly, Wikipedia also reports an 11-foot long mammoth tusk was discovered north of Lincoln, Illinois in 2005, about three hours from where I live. Can you get enough DNA to clone something from a tusk? [Hey Alice — road trip!!]
Contrary to everything I learned in eighth grade, mammoths are not dinosaurs. They're giant gorilla elephants. They're also mammals, like that other famous extinct not-a-dinosaur, the saber-tooth tiger.  Scientists have chosen to clone the mammoth first, rather than the saber-tooth tiger or the Tyrannosaurus Rex, because they're unimaginative losers.
As every well-read science fiction fan knows, cloning mammoths is just the first step on the slippery slope towards cloning people, cloning cats, Clone Wars, and the inevitable zombie apocalypse. I hope that in the interim, we get around to cloning Neanderthals. Because let's face it — that's what cloning is for.