"And the Score at the Text Break Is…" My Favorite Soundtracks for Writing
"And the Score at the Text Break Is…" My Favorite Soundtracks for Writing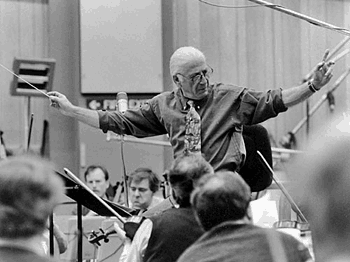 I always write with music playing. That's not much of an admission. A few writers prefer to work in silence, but most that I have talked to say that they need to have music in the background while they work at their keyboards or notebooks. Some writers like to listen with headphones on as an extra seal against the rest of the world, but I only do that if I'm working in a public environment. Otherwise, I let my massively stuffed iPod play through the huge speakers in my apartment to surround me with music as I work.
Just as every writer has a different method of writing, so does every writer have difference musical preferences for underscoring his or her work. But "underscore" is the key word, since I have discovered that film music is perhaps the number one choice for music to write by. One reason for this is that film scores usually lack lyrics (at least in English; Latin chanting is a standby, Ave Satani!) that can distract from the author's own words. Film music, regardless of its style, also inherently has a dramatic feel that parallels how writers often think.
The situation is a bit different for me. I do listen to film scores while writing, but that's because film music is my favorite form of music. I have listened to film scores more than any other type of music since high school, when I turned into an avid collector of soundtrack albums. My collection is now somewhere in the thousands, and ranges in obscurity from John Williams's Star Wars scores to films nobody remembers except film score collectors (The Cassandra Crossing). The chronological scope of my collection is just as wide, from silent movie scores to films released a few weeks ago. Film music is one of my deep passions.
When I develop a novel, I build a "soundtrack" for it as a playlist on my iPod, gluing together cues from different albums to represent sections of the book, as well as general themes for characters and ideas. It aids me in visualizing the work, and the soundtrack develops along with the novel in the pre-draft stage, much like its outline.
However, I do have some "standard" scores that I rely on when I am not listening to one of my compilations. For various reasons, these albums (or connected albums—the iPod is great for this) work ideally as writing inducers without turning into distractions. Some of my favorite scores—Chinatown and the three Omen films by Jerry Goldsmith, Jaws by John Williams, King Kong by Max Steiner, The 7th Voyage of Sinbad by Bernard Herrmann—have never worked well for me as writing accompaniment, often for reasons of their pacing or dynamism. For example, the vibrant colors and rapid motif-changes of The 7th Voyage of Sinbad yank me right out of anything I try to do. That includes ironing, by the way. So what follows aren't necessarily my favorite films scores—although I love all of them—but the ones I am mostly likely to roll up on the iPod when the time comes to get that next chapter or story finished.
(This list could have gone on much longer, but I had to stop myself. To be continued, maybe. I have a feeling that the score to TRON Legacy by Daft Punk and Hans Zimmer's "personal best" on Inception will soon join these.)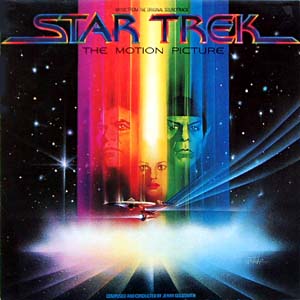 The Complete Jerry Goldsmith Star Trek
Alexander Courage wrote the theme to Star Trek: The Original Series, but legendary composer Jerry Goldsmith—my personal favorite film score maestro and the fellow pictured at the top of this post—is the sound of Star Trek. He never composed for the original TV series, even though he had a long history in the medium (he was one of the primary composers for The Twilight Zone) and returned to it in the late '60 and early '70s, when film composers had dwindling job options. However, when Goldsmith came on board the franchise to score Star Trek: The Motion Picture in 1979, he produced "The Other Star Trek Theme," what I like to call the "Boldly Go! Theme," which is one of the greatest heroic calls to adventure in music history. He went on to score the feature films Star Trek V: The Final Frontier, Star Trek: First Contact, Star Trek: Insurrection, and Star Trek Nemesis, which was one of his final scores before his death in 2004. Plus, he wrote the theme to the series Star Trek: Voyager. No composer captured what the world of Trek was better than Goldsmith, and now with a full release of the score to Star Trek V out on a limited edition CD, I can listen to a massive symphony of all his music for the series as a seamless salute to futuristic optimism, science-fiction beauty, and heroism. As a SF writing backdrop, this oeuvre is hard to top.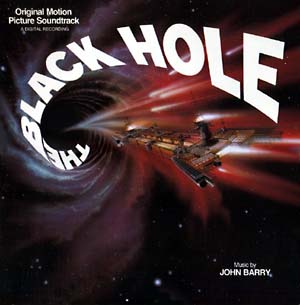 The Black Hole by John Barry
. . . but this gets close. John "The Sound of 007" Barry's work on the odd Disney leap into late '70s space opera is the Gothic Cathedral of epic science-fiction scores. Mesmeric and sinister, it has remained in almost constant rotation on whatever musical playback device I own since I received an LP of it (signed!) as a holiday present almost twenty years ago. The score has a terrific rousing fanfare (used as a pre-curtain overture during the original theatrical release, and later in the film underneath the obligatory laser-gun battle), but the rest of music is funereal, swirling, and eerie. Try to get the seven-note "Black Hole" theme out of your head after one listening, I dare ya'. The thirty-nine minute album has never appeared on CD, but is available as a download on iTunes. (By the way, this was the first film soundtrack recorded digitally.) A longer album would be nice one day, but the issue of music rights makes it appear unlikely. Regardless, as presented, the album is as near perfect as scores come, and has a way of enrapturing me during writing that few extended pieces of music can. (You can read a very in-depth review of it I wrote three years ago.) It also pairs well with another space adventure that Barry composed the same year: Moonraker. (Update: Mr. Barry died at age seventy-seven thirteen days after I wrote this post. No one can ever replace him.)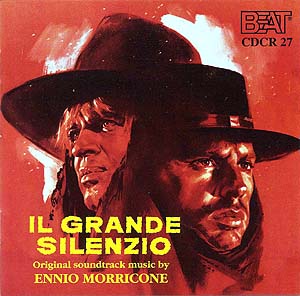 The Great Silence by Ennio Morricone
Morricone's scores for Italian Westerns get trotted out on my iPod with the regularity of the gory deaths in the movie Django. But the one I turn to the most when it's first draft time is his amazing music for the little-known Sergio Corbucci 1968 film The Great Silence (Il Grande Silenzio). The film itself is brilliant, the bleakest Euro-Western of all and the best entry in the genre from someone other than Sergio Leone. Morricone provides a weird and luscious musical landscape utterly different from his other Western scores. It is "music of the cold wastes," and a transporting experience, especially its main theme, which makes extraordinary and uncharacteristic use of the harpsichord. Unfortunately, the album is difficult to find on CD in the US, although the main theme appears on many Morricone compilations.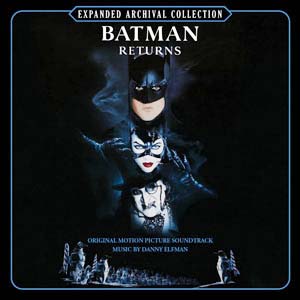 Batman Returns by Danny Elfman
It confounds me that some film score aficionados think Danny Elfman's follow-up to his score to 1989's Batman is a disappointment. This is one of my favorite of the composer's scores, creating a "Christmas Gothic" feel that sounds like Edgar Allan Poe, Charles Dickens, and Wilkie Collins having a very drunken and depressing holiday party. The theme for the Penguin, which alternates between pathos and pitch-black menace, is one of the best musical encapsulations of my idea of "dark fantasy." I have listened to this score as an accompaniment to horror writing for years, but with the recent release of a 2-CD limited edition of the whole score, it has vaulted to the top of my list for almost any writing that needs a dark atmosphere.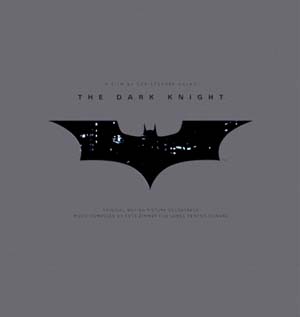 Batman Begins / The Dark Knight by Hans Zimmer and James Newton Howard
Sticking with the Batman topic. . . . It's wonderful how the digital playback technology allows the free mixing of connected albums into larger wholes. Combining the albums to Batman Begins, The Dark Knight, and digital bonus music from The Dark Knight creates a seamless whole of rhythmic patterns that I find ideal for writing. Zimmer and Howard take a very different approach from Elfman and Goldenthal's epic orchestral work on the early Batman movies; they rely on minimalist themes and electronic pulses, but it works for me, and woven into its near three-hour glory it makes for the perfect kind of writing immersion. (Undoubtedly, the score to The Dark Knight Rises will be added here next year.)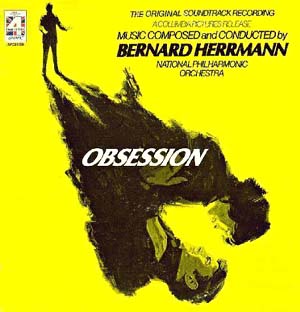 Obsession by Bernard Herrmann
Herrmann is the Michelangelo of film composition, the most respected figure in its history. His first score was for Citizen Kane. His last was for Taxi Driver. In the middle was Psycho. That about sums it up, doesn't it? Much of Herrmann's work is filled with such complexity and orchestral color that he's far better for active listening than as writing backdrop. But Obsession, his second-to-last score, has a special quality of emotional response that I have found is an intoxicant. Although Herrmann had scored Vertigo, the film that Obsession imitates, he fully altered his compositional style into a quasi-religious sound, complete with rumbling pipe organs and soaring worldess choirs, that has a transcendant power away from the film unlike almost anything else that the composer wrote. A complete official CD release of the score would be pleasant to have one day.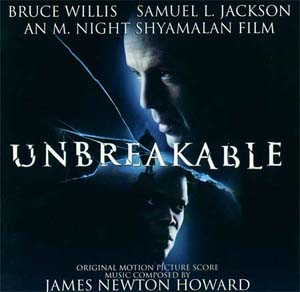 Unbreakable by James Newton Howard
I will unashamedly admit that this is my favorite of M. Night Shyamalan's movies; I haven't liked anything he has directed since, actually. James Newton Howard, Shyamalan's regular musical collaborator, created a score that is perfect for writing; it flows together into almost a singular piece, has appropriate peaks and valleys without flying into distracting different styles, and has moments of rising power and heroism with extended plateaus that can sustain my writing in thrilling ways. The music also has a quality of being un-moored in time and place, so it works for writing in almost any genre.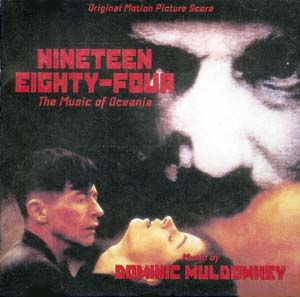 Nineteen Eighty-Four by Dominic Muldowney
This is the rarest, most difficult to find album on my list. I paid a hundred dollars to get hold of it, but it was one of the best purchases I've ever made: if it were an LP, I would have worn it smooth after only a month. The original release of this film in 1984 (of course) had a mixture of music from composer Muldowney and songs by the Eurythmics. This went against director Michael Radford's wishes, since he did not want any pop-oriented songs in the score, which Muldowney had already finished. The 2003 release of the film on DVD removed the Eurythmics' songs—much to the movie's benefit—but not all of Muldowney's bleak musical paean to dystopia was properly restored. This limited edition 1999 album presents Muldowney's complete score, and it is a jaw-dropping masterpiece. The score does contain prominent English lyrics as part of it (the creepy hymn "Oceania, 'Tis for Thee" and "The Washerwoman's Song" taken from the novel) but as a part of a package of sorrow, fear, and mind-control, it's spot-on.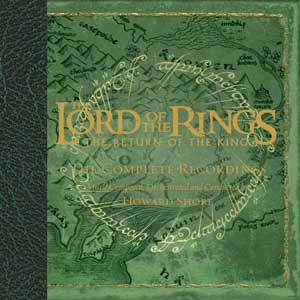 The Complete Howard Shore Lord of the Rings
Rarely have films scores received such a comprehensive release as the music Shore composed for Peter Jackson's three Lord of the Rings movies. Each film received a standard single CD release at the time of the premiere, but later each was treated to a box set containing the complete score along with a thick book of liner notes describing every detail about the composition and the use of motifs. The grand total of music available: over ten hours. That alone makes it ideal writing music: although containing massive orchestral themes and more shifts than a Grand Prix race at Monte Carlo, The Lord of the Rings in complete musical form is a way to get lost in fantasy magnificence. And when Shore's battle music starts thundering, just ride it!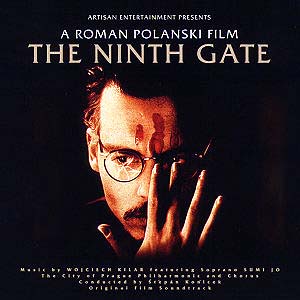 The Ninth Gate by Wojciech Kilar
Nobody else seems to like this film as much as I do. I enjoyed the semi-comic mixture of film noir with antique book-dealers and black magic. That just hits all my buttons, I guess. (Now, if only it had a giant monster somewhere in it.) Kilar's score for Roman Polanski's film covers some wide territory: bouncy "street detective" themes, European chamber music, and medieval choral horror in the mode of Goldsmith's score to the Omen trilogy. Kilar wraps it all up so well so that these motifs do feel like they exist in the same soundscape, and for reasons I cannot quite describe, the musical patterns in it fit the creative patterns of my own mind.
The Road Warrior by Brian May
Not the Brian May from Queen. Just so we're clear. This is an album that begs . . . begs . . . for an expanded version. The current bare-bones thirty-minute version that has lingered since the LP days hardly covers what May packs into the movie, and it misses a significant portion of the climactic tanker chase music. However, since this film is one of my favorites to boost me for writing, I have to count the soundtrack as an essential writing tool. It may not last long, but if I keep it on "repeat," it doesn't seem so brief. May's unusual sound, which emphasizes heavily a large unified brass section with strong percussion, combines barbarity with sparsity. When I write in my "Ahn-Tarqa" setting, there's no better accompaniment to capture the mood I need better than May's dirge-like approach to the apocalyptic future.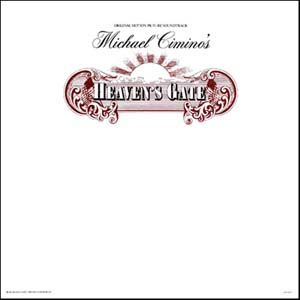 Heaven's Gate by David Mansfield
Even people who dislike the notorious 1980 Western flop—opinion on it now divides between adoration and boredom—admit that the music is amazing. It's an intimate score using traditional folk-melodies, many from Eastern Europe, arranged into an American Western setting. Multi-instrumentalist Mansfield arranged and performed most of the pieces, and the gentle beauty of it is haunting from even a first listen. Mansfield's arrangements and performances of "Ella's Waltz," based on Doug Kershaw's Cajun dance classic "Mamou Two-Step," is one the most touching love themes I've heard in any movie. For writing in a softer, emotional mode, the full score for Heaven's Gate is my top choice.
By the way, I met Jerry Goldsmith twice during the last ten years of his life. This is my most treasured encounter with anyone who had a huge influence on me. Even greater than meeting Ray Harryhausen.