Somebody Has to Talk about Frederick Faust
Somebody Has to Talk about Frederick Faust
…and I guess it's going to be me.
When I first started blogging officially here at Black Gate, I wondered what would constitute "on topic." Obviously, writing about new crop developments in Iowa would be "off topic" (and I don't know anything about that anyway) but would writing about Godzilla (about which I know far too much for my own good) be considered "on topic" because I could count on at least half the site's readership thinking it was interesting? I still wrestle with these questions, and perhaps that's why I don't sleep as well at night as other people.
One thing that I'm certain now is "on topic" is anything that has to do with pulp magazines. I've written about Norvell Page's Spider novels (and will do so again soon) and mystery and suspense author Cornell Woolrich, and nobody's taken me to task for either. So now I throw caution to the four winds and write about Frederick Faust because somebody has got to do it. If I'm going to write about pulp magazines, I have an obligation to write a post about Frederick Faust. You have no obligation to read it, but I strongly urge you to look below the cut because … this fellow is seriously interesting and you should give him a glance some time.
But first, maybe I should mention Max Brand, a prolific writer of Western novels whose work remains popular to this day and who still regularly appears in new paperback editions that you can find at the grocery store wire racks. Max Brand wrote extensively for Western Story Magazine during the grand days of the pulps in the 1920s and '30s. He wrote Destry Rides Again (originally serialized as Twelve Peers), which became a classic Jimmy Stewart and Marlene Dietrich film. He created the character of Doctor Kildare, who later became famous on radio and television. According to biographies of the author published in Western Story Magazine, he was a strapping six-foot blue-eyed bull of a man with the frontier deep in his blood who was still working the cattle drives while writing his stories. He had much the same background as other popular pulp Western writers of the day, like George Owen Baxter, John Frederick, Henry Peter Morland, Evan Evans, and David Manning.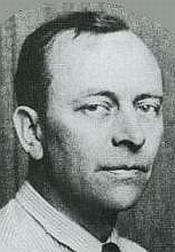 However, this is all complete swill. There never was a pulp writer named Max Brand. Or George Owen Baxter, or any of the rest just mentioned. They were all Frederick Schiller Faust (1892–1944), a Seattle-born, Berkley-educated, Italian-resident who embraced tragic classical verse as his calling and yet managed to publish some thirty million words of popular genre prose in his twenty-seven year career under nineteen different pseudonyms.
Let me repeat that: thirty million words. (As nineteen different people.) That is the equivalent of three hundred and seventy-five novels of 80,000 words in length. Averaged over his twenty-seven-year professional writing career, that amounts to almost fourteen new books published per annum. If he entered National Novel Writing Month, he'd win it six hundred years in a row.
Faust is the King of the Pulps. He is untouchable.
He also didn't care about any of it. He was, in his mind, a classical poet. He would spend hours agonizing in his study in his Italian villa over three lines of verse in his epic Dionysius in Hades, but pass his morning typing out 15,000 words or more of salable adventure fiction as if it were no more routine than clipping his toenails. He thought the Western, war, detective, and historical fiction he wrote for the pulp magazine markets were so much disposable trash and his life was wasting away doing it.
Humans are not always fine judges of themselves.
Jon Tuska, who manages the Frederick Faust estate and the Max Brand trademark (Max Brand is a business), captures the author's true miracle: "…what was most remarkable about him wasn't how much he wrote but how fine is so much of what he wrote. In even a minor story there is, notwithstanding occasional flaws, always something that stays with a reader and makes the experience of having read the story memorable."
My own experience reading Faust completely supports Tuska's statement. I've read a few novels and stories from his typewriter that weren't remarkable, but nothing that was flat-out bad. But so much more stands out that was fantastic, such as the dog-fable The White Wolf, and the three "Thunder Moon" novels, which were ahead of their time in their sympathetic portrayal of Indians as protagonists. Faust's first Western novel, The Untamed, is still one of the best examples of the genre, as is its first sequel featuring his primal character, Whistlin' Dan Berry, The Night Horseman. Another early Faust Western, Trailin', is equally astonishing. Others I can list right off the top of my head that have stayed with me are Gun Gentlemen, The Desert Pilot, the already mentioned Destry Rides Again, Sixteen in Nome, the supernaturally tinged Luck, and the stories collected in The Sacking of El Dorado.
All of these works are Westerns, which was Faust's signature genre. He claimed to find the real American West "disgusting," although he did have first-handexperience of the hardscrabble life of it from his youth. He was orphaned at a young age and worked on wagon teams and on ranches in the San Joaquin Valley. He did not have good memories of these times, but it seems to me that they created in him the inherent contradiction that would make him such an excellent popular writer. Near the end of his life, he wrote to his grown daughter concerning this time period:
Then came the death of my father when I was thirteen and life on wretched farms in central California among people who would not and could not talk the language I wanted to hear. By the time I was ten, I had written enough to known that I wanted to write more and at about the same time a sense of high destiny (laugh a lot, Janie, because laughter is in place here) overcame me once and for all. It never left me from that day to this, in spite of all that I'm to relate to you now. But in the dimness of that life I passed through agonies so real that all pain, since then, has seemed rather unimportant. I wanted to have a chance at what seemed to me important living, thinking, and being. That want has never left me.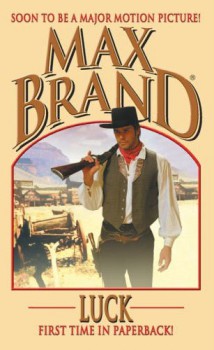 Faust did get a chance to be among the people who could "talk the language" he wanted to hear when he attended the University of California, Berkeley, and, in his own words became "the outstanding drunk in the college" and also "the best known of the campus writers." But he was denied graduation because of his behavior. He married, moved to New York, failed his physical exam to enlist in the military for World War I because of a heart condition, and unable to sell poetry to make a living almost by accident discovered he had an incredible talent for spilling out prose stories that sold to pulp magazines. And sold. And sold. Enough to let him relocate his family to a villa in Italy, where he continued to write popular fiction and sell, sell, sell … all while wondering why he wasn't getting anywhere in his "real" writing.
And there is the contradiction captured in Faust's statement. He wanted this "high sense of destiny," which was the elevated world of classical poetry. But his brilliance lay in the down-to-earth Western and popular literature. Yet, reading Faust's work, it becomes clear that this isn't a contradiction, and the man had indeed achieved a high destiny even if he did not realize it. Faust's Westerns take place in an unreal and bizarre world with plots that have much in common with classical tragedy and poetry. He knew the hardness of frontier life and could infuse that reality into what he wrote, but his stories were great fantasies pulled from the myths that he loved. The result … the Grand Mythic Old West, Homer on the High Country. This is why Faust's work seems to leap off the page even today. He knew how to tell stories and how to make them timeless.
He was also that rarity among writers: a complete natural. I can pluck down almost any volume of his work and open on something and find it remarkably crafted. And Faust probably plunked it down without revisions in the middle of one his morning writing blitzes as he typed toward 15,000 words for the day. For example, the opening of the 1932 novella "Range Jester":
Three men came over the horizon. The first came through the pass, the second, up from the valley, and the third walked in over the flats from the direction of the railroad. All three were headed for Loomis, and one of them was to die before morning.
That's brilliant. That's nearly a perfect opening: the author provides maximum information, mood, and foreboding in a short space. And I'm sure that Faust hardly even thought about it as it punched it out on his typewriter in Italy.
A randomly picked passage from Crossroads, the 1920 sequel to Luck:
In the center of the little grove they kindled a fire, for they found an abundance of dry wood and the whole, half-rotten trunk of a fallen giant. Then, propping themselves against their saddles, they sat on opposite sides of the fire. He rolled and lighted a cigarette, and she sat with her hands locked in front of her knees and her face turned up to the stars. Even the sailor has less love for the stars than the dweller of the desert. To the sailor they are guides and steering points, but to the desert dweller they are friends—the eyes of friends who look down through the long breathless silence of the nights.
And that's just the first paragraph my eyes fell on when I flipped through the book. That's the sort of effortless poetry that Faust produced most of the time.
I've read some of Faust's actual poems over which he agonized; they are among the few pieces published in his lifetime that he allowed to appear under his true name. And they aren't that good. They feel … well, labored. Yet the Western novels he threw out onto the market with hardly so much as a second draft (his wife did proofread them) are at best astonishing and at worst fairly good. The same for the other genres he wrote in, like mysteries and historicals.
Faust did achieve one his poetic goals: he wanted to live poetry, and one of the best ways to do that was to die in a foreign war. In 1944, Frederick Faust died in a foreign war. Denied service as a youth in World War I, he signed on as an older journalist in World War II and saw action in the Italian campaign. On May 12, Faust caught a piece of shrapnel under his heart, and died soon after. On his commendation upon receiving a posthumous Purple Heart is written: "He lives—in a way that humbles that undertakings of most men."
In a way that humbles the undertakings of most men. Thirty million words. You're Zeus-damned right.
So what I'm attempting to express here is … try the guy. Type in "Max Brand" in Amazon.com (don't bother typing "Frederick Faust," he wouldn't want you to) and pick something. Anything. It'll be good. I promise. Some folks just have it.
---
Ryan Harvey is one of the original bloggers for Black Gate, starting in 2008. He received the Writers of the Future Award for his short story "An Acolyte of Black Spires," and his stories "The Sorrowless Thief" and "Stand at Dubun-Geb" are available in Black Gate online fiction. A further Ahn-Tarqa adventure, "Farewell to Tyrn", is currently available as an e-book. Ryan lives in Los Angeles. Occasionally, people ask him to talk about Edgar Rice Burroughs or Godzilla in interviews.