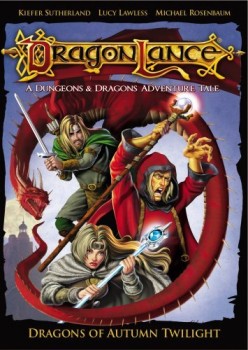 Dragonlance: Dragons of Autumn Twilight
Directed by Will Meugniot. Featuring the Voices of Keifer Sutherland, Lucy Lawless, Michael Rosenbaum, Michelle Trachtenberg, Jason Marsden, Rino Romano.
During one of the classic episodes of Mystery Science Theater 3000, while Mike and the 'Bots are watching the conclusion of the delightfully weird and wretched 1960's Coleman Francis masterpiece The Skydivers, Mike abruptly remarks: "I don't know guys. I still like this movie better than Top Gun. A lot better."
So I will say this about the recent animated film adaptation of Dragons of Autumn Twilight: "I still like this movie better than the 2000 Dungeons & Dragons movie. A lot better."
Be warned: these will be the last friendly words you are likely to hear in this review.
If Wizards of the Coast, the current owners of the Dungeons & Dragons media franchise, had serious intentions of starting a successful line of direct-to-video animated films based on the Dragonlance and Forgotten Realms novels, they couldn't have done a finer job of slicing themselves off at the knees with a broadsword than this disaster of a movie. The DVD came out in January, and the reason you probably haven't heard much about it until now is because so many people are trying to abide by "If you can't say anything nice…" Or else the film immediately slipped their memory after seeing it. Both concepts make sense.
---