A Fine and Private Place after almost 50 years
A Fine and Private Place after almost 50 years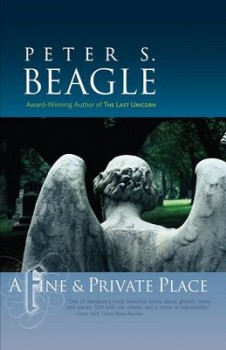 A Fine and Private Place
Peter S. Beagle (Viking, 1960)
Peter S. Beagle wrote his first novel, A Fine and Private Place, fifty years ago at the age of nineteen. Which really annoys me because the book is so blasted good, making me aware that, although I was a skilled nineteen-year-old in my day, there was no conceivable way I could have crafted at that age a work as beautiful and knowledgeable about life, death, and love as A Fine and Private Place.
And Beagle's greatest work, the traditional fantasy classic The Last Unicorn, still lay ahead of him.
I'll try not to take this all personally and just feel glad we have A Fine and Private Place around… and still in-print, a minor miracle considering how fast our culture embraces new and tosses everything else into the dustbin.
A Fine and Private Place is one of the masterpieces of contemporary fantasy, and only the long shadow cast by The Last Unicorn keeps it from getting more notice. The tale occurs almost exclusively within an enormous graveyard, features ghosts and a talking raven, but it isn't a horror story or even a dark fantasy, but a gentle and often sorrowful look at the difficulties of love and the realities of death, neither of which work out the way any person living or dead might expect.
Mr. Jonathan Rebeck lives inside a crumbling mausoleum of a forgotten family in a cemetery hollowed from the heart of the Bronx community of Yorkchester. The cemetery is its own Gothic city within in the damnable sameness of Yorkchester, "built largely by an insurance company." (Based on Woodlawn Cemetery, which at the time Beagle could see from where he lived; in a comment below, Beagle's business manager mentions it was only a block away and was one of the author's childhood playground.) Once Mr. Rebeck was a druggist, but he somehow developed a reputation as a witch-doctor who could cure with magic. Eventually he went bankrupt, and ended up through accident living in the Wilder Mausoleum. For nineteen years he has never left the gates of the cemetery. He finds ways to outwit the watchmen, and spends his free time solving chess puzzles and speaking to the new ghosts before they start to fade. Mr. Rebeck gets his food and occasional news from a talkative and cynical raven, who serves the solitary man because retrieving food for people is simply the role of ravens throughout the ages.
Mr. Rebeck knows the dead better than he know any living person; he can see and talk to their spirits—also restricted to graveyard where they are buried—for the short span of time when they wander the lanes of the graves, before their memories of life start to fade away. The novel does not explore how Mr. Rebeck developed this "death sense," and it doesn't matter—his personality has so little connection with life that it is only common sense that he would be able to communicate with the dead.
The novel follows the consequences of three new arrivals to Mr. Rebeck's cemetery. Two are the recently deceased: Michael Morgan, a forty-three year-old history teacher who says his wife poisoned him; and twenty-nine year-old Laura Durand, who died when a bus hit her, but who believes she died years before that. The third arrival is living woman, Mrs. Gertrude Klapper, a widow who has come visit her husband Morris's grave.
Two romances will start to emerge from these four people inside the Yorkchester cemetery, but obstacles both real and imagined (almost the same thing in the novel's world) stand between even brief happiness for them. A surprise new character appears, and then the raven brings word from outside the iron gates that might capsize the order of life and unlife inside the Necropolis or Yorkchester.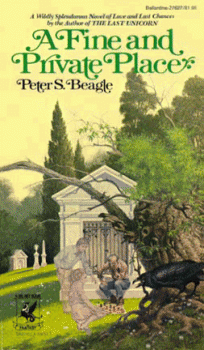 As I mentioned earlier, it seems astonishing that a nineteen-year-old could have such a grasp on the implications of death, wasted life, and elderly loneliness that fill up A Fine and Private Place. The book has the feeling of a reminiscence written from the end of life, not from its beginning. It isn't actually a morbid novel, but the regret and the longing in it are potent. Beagle's prose contains an effortless sort of magic that brings the weight of age and sorrow into a story that already takes place in the most solemn place imaginable. The magic begins on page one, as the raven tries to hoist some food for Mr. Rebeck, and continues unabated.
As someone who loves the use of ravens in fantasy (I've written of magic ravens more than once), I adore the nameless one in this book. He's the most detached of the characters, and Beagle fills his beak with the most biting and humorous observations in the story. Without the raven's sardonic wit, A Fine and Private Place would tilt too far toward the dark. Ironic that a raven makes the story less Gothic.
The possibility of a movie version of A Fine and Private Place has drifted through the ether of Hollywood for many years. In 1996, Beagle himself confirmed John G. Avildsen as the director—but it seems nothing has come from this. Currently Richard Dreyfuss owns the rights and the part of Mr. Rebeck does seem to suit his talents. But I have doubts about how well the story will adapt on a strictly visual level, since so much of its effectiveness comes from Beagle's language. A play version adapted by Michele Casella was produced in 1980. The small number of characters and limited location makes the novel good raw material for the stage, and I could imagine it working better in the glow of the footlights than on the silver screen. I would love to read a copy of the play at some point—or maybe even see it performed. There is also a "musical fantasy" production originally produced in 1989 at Goodspeed Opera House in Connecticut—with a cast album finally released in 2004—and later done Off-Broadway in 2006 [and apparently not legally; see the comments below]. I'm not a fan of musicals, but this interests me nonetheless. I still would rather see the non-musical version from the early '80s.
Beagle is one of the classic fantasy authors whose catalog is remarkably slim, much like that of noir master Raymond Chandler, with long empty stretches between his fiction production. Every piece of fiction he turns out is something to treasure. A Fine and Private Place and The Last Unicorn are the only of his early books to remain in print since their first publication, which means that new fantasy readers have a good chance of making his acquaintance. As much as I love The Last Unicorn, I advise that newcomers to Beagle start here, in the shadow of the mausoleum with a recluse, two ghosts, a widow, and a raven, before moving on to the author's even greater masterpiece.