Kelly's Coffee & Fudge & Overdue Fees
Kelly's Coffee & Fudge & Overdue Fees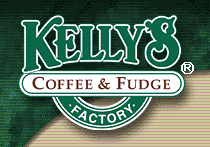 Bill Ward has done some exploring in the library recently, inspiring me to drop in my own thoughts about some changes I've noticed recently in the public book-lending sphere.
I hadn't taken a trip to the Beverly Hills Library for a few months. When I walked in last time I made an immediate turn to the right to head into the Periodicals Room and check on the latest issue of The Magazine of Fantasy & Science Fiction…
Except the Periodicals Room no longer perched next to the front entrance of the faux-Moorish main library building. Instead there was a Kelly's Coffee & Fudge, looking as if someone had lifted it off the airport concourse and dropped it next to the Reference Desk. For a moment, I wondered if I had gone into Barnes & Noble by mistake, instead of the public library.
And so I had my first (conscious) encounter with one of the controversies that beset North American public libraries. I had so far never seen a coffee shop in a library, but it's a growing phenomenon.
I'll admit that my first instinct as a bibliophile and supporter of the library was one of revulsion. A nasty corporate ogre had gotten through the iron gates of a sacred place of learning and staked out a space. Not only that, but the loutish beast had brought food with it: coffee and chocolate to stain book pages and invite papyrus-devouring insects to rip through the library's nubby single copy of The Castle of Otranto. A door does stand between a patron of Kelly's and the library, along with the printed warning not to leave the premises of the coffee shop with food or drink, but the danger lies too close for comfort. I have a difficult time as it is whenever I see paper coffee cups left sitting on shelves in commercial bookstores (yes, I do the public service of disposing of them myself). Now the public library faces the same danger.
But… in the digital information age, our libraries are struggling. Younger students are less likely to patronize libraries today, and these new coffee shops are an attempt to lure them back and give the library a more "social" vibe. On those grounds, I can't make a unilateral protest against this Starbucks Invasion of the stacks. And considering the modern architecture of the Beverly Hills Public Library, the Kelly's Coffee and Fudge makes an oddly appropriate aesthetic fit.
But still… food in the library… that goes against everything I learned in elementary school. It seems equal to selling indelible markers and razor blades next to the reference stacks. I'm a touch concerned.
Yes, our public libraries are changing. Bill Ward has blogged on one unfortunate phenomenon he has noticed, the disappearance of used books for sale. (Fortunately, the Beverly Hills Public Library still has its extensive used book selection in its large "Friends of the Library" bookstore—right next to Kelly's Coffee & Fudge.) Libraries now make special accommodations for laptop use and wireless Internet, while trying to crack down on cell phone abuse—even going so far as instituting heavy fines.
Which brings me to the end of my experience that day at the changing public library. While moving through the upstairs stacks, I encountered a man talking loudly on his cell phone, in violation the enormous "cell phone free zone" sign at the entrance. If I had snuck a cup of steaming hot coffee out of the shop, I would have tossed it at him. But I would never bring food or drink into the library; I had to settle for hurling War and Peace.