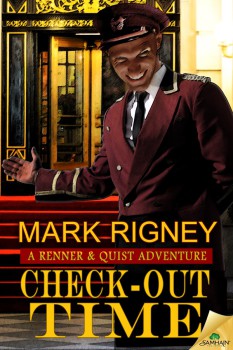 It's such a predictable trap. In or near an elevator, I tell some newly met, well-intentioned stranger that I'm a writer, and they immediately ask, as if they've waited all their lives for this very opportunity to arise, "What sort of books do you write?"
And that's the end, you see, or at least the end of any potential new friendship, because if I answer "I write fantasy," which is true, they start sniggering and feel superior, or if I answer, "I write horror," they run off, laughing hysterically at my bad taste –– and of course then they feel even more superior.
Worst answer of all: "I write literary fiction." Then they assume I'm a genius and their eyes glaze over, because they feel they absolutely must pay attention to every single word I say, in hopes of gleaning a pearl. I become the social equivalent of bubonic CliffsNotes.
Thus Renner & Quist, and Check-Out Time, because I want to craft stories that employ elements of multiple genres and literary currents. The danger, I suppose, is that I wind up with tossed salad, but I don't believe that's been the result. What reviews there've been suggest that I'm correct to think I've avoided the splatter-punk of, say, Jackson Pollock.
---