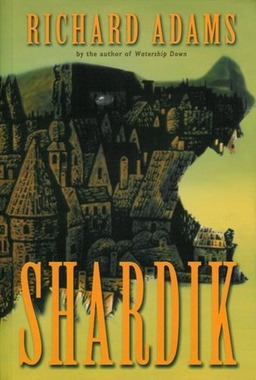 Midway through Richard Adams's doorstop of a book, Shardik (1974), I decided I had stumbled into the world's longest parable.
Biblical parables are typically quite brief, but Adams pulls toward the opposite shore, reasoning that in thoroughness lies salvation. And why shouldn't he? That tactic worked like gangbusters in his astounding debut, Watership Down (1972).
Shardik could indeed function as a serviceable doorstop, but to dismiss it out of hand would be a disservice to literature in general, and to fantasy novels in particular. Shardik is a brave, uncompromising examination of how "mere" mortals encounter and deify the exceptional, thus giving rise to portents, omens, prophecies, and ultimately continent-conquering religions.
In the case of Shardik, the talismanic inciting event takes the form of a gigantic bear, a bear of monstrous, prehistoric proportions, and this bear first flees a forest fire and then crashes, half-burned and exhausted, into a far-flung outpost of human civilization, Ortelga. Unfortunately – or not, depending on one's point of view – the Ortelgans entertain a fervid belief that God's manifestation on Earth will come in the form of a massive bear.
While Watership Down stayed locked within the heads of its rabbit characters, Shardik spends only a few pages at the outset inside the eponymous bear's mind, just long enough to convince any alert reader that while Shardik may be a divine instrument, he is very much a bear, no more, no less, and will behave accordingly. After that, the story turns to Kelderek-Plays-With-Children, a hunter of simple tastes who first stumbles upon the injured, recovering bear-god.
---