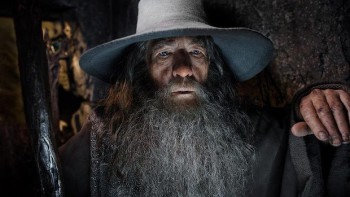 Let me state for the record that I am a fan of the film adaptation of The Lord Of the Rings. Jack Nicholson can complain all he likes about "too many endings," but that celluloid trilogy managed the impossible: it successfully imbued a made-up world not only with turmoil and action but with genuine emotional gravitas. The Lord Of the Rings (2001 – 2003), against all odds, mattered.
Having just seen the third of The Hobbit installments (2012 – 2014), I fear I cannot say the same for these sequel-prequels. I want to. At certain moments, I'm convinced. At others?
Yes, the task of adapting a book to the screen is arduous, full of perils, and the fact that Jackson's scriptwriting team of Fran Walsh, Philippa Boyens and (for these films) Guillermo del Toro have had any success at all is remarkable. Tolkien, let's face it, was not an efficient story-teller. Given characters like Tom Bombadil, it would not be unfair to crown him as King Of All Digressions.
So let's take it as a given that adaptation involves violence toward the source material. Additions will be made, and subtractions, too. So be it. The goal, typically, is to preserve the spirit of the original.
---