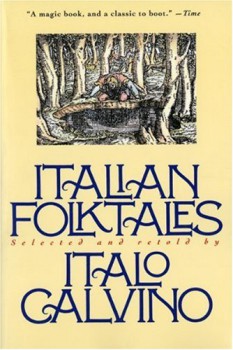 I grew up on Hans Christian Anderson, the Brothers Grimm, and the myriad anthologies of Andrew Lang: The Blue Book Of Fairy Tales, The Brown Book Of Fairy Tales, The Red Book Of Fairy Tales, etc. Most of these were read aloud by my father, so I received them as part of humanity's long oral tradition, a fact for which I am now very grateful. Aesop, too, arrived in my life as something overheard rather than read.
All of the above work shared a common heritage. In fact, prior to high school at least, they led me to believe that fairy tales were specific to Europe, something vaguely Nordic, and familiar to the degree that the characters within the stories were uniformly white and spoke English. Who knows when it finally occurred to me that these stories were translated, and that many had international sources that transcended culture, race, and geography.
By 1980, when Italo Calvino's Italian Folktales finally arrived in an English-language edition (translated by George Martin), I was moving into different myths: Tolkien, certainly, but also the grittier, street-savvy story-telling of S.E. Hinton, Robert Cormier, and early Bruce Springsteen. The publication of Italian Folktales made not a ripple in my life. Indeed, I eventually read several other Calvino classics (If On a Winter's Night a Traveler…, The Baron In the Trees, and The Non-Existent Knight) before realizing his omnibus folktales even existed.
It took me another ten years to order a copy and crack the covers, and ten more still to really delve into this enormous, 760 page trade paperback (Harcourt). What finally tipped me over the edge was the need for a new book to read to my adventure-obsessed youngest son.
At the outset, I admit to being worried that Calvino might not be a hit.
---