Fourteen years ago, I taught my first college-level writing class. Let's face it, I was very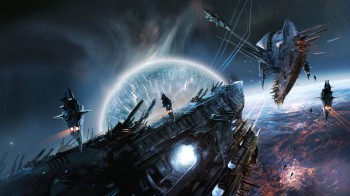 green, an adjunct hired to fill an unexpected gap in the wake of a fast-departing faculty member. Whether I did well or poorly I do not claim to know, but of my eleven students, two had their final projects subsequently published, and one went on to get an M.F.A. in creative writing (which means he's now flipping burgers in your local Mickey D's, so next time you're there, be nice).
The other fact of which I'm sure is that my toss-the-feathers syllabus mixed fantasy and literary readings. Yea and verily, it's a wonder I wasn't burned as a heretic – but perhaps the resident firemen, Montag & Smaug, Inc., were extra busy that season.
I'm now on my third go-round as a writing teacher and while my reading selections remain whimsically mixed, I do have one fresh challenge on my plate: for the first time, I have a student invested in writing out-and-out science fiction. And not just any sci-fi, we're talking guns-a-blazing space opera.
By the glowing rings of Saturn, what am I to do?
---