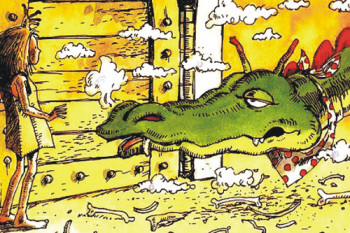 Possibly the most rambunctious children's author out there is Robert Munsch, whose characters drive bus loads of pigs to school, vanish beneath layers of permanent markers, and scream in the bath with sufficient volume to summon the police.
All of his (uniformly excellent) picture books employ elements of fantasy, but only once, to my knowledge, did he and his regular collaborator, illustrator Michael Martchenko, depart entirely our real and rational world long enough to include that nemesis of humanity: the green-scaled, fire-breathing dragon.
Yes, it's The Paper Bag Princess, one of the best kids' books I know, rife with hilarious prose, ebullient artwork, and the pluckiest heroine this side of Dorothy Gale. Who says girls can't have adventures?
The plot is a model of efficiency. Princess Elizabeth lives in a castle, and she's got riches and a boyfriend, Roland, whom she expects to marry. Curly blonde Roland sports a crown and a tennis racket, and just to be sure we get the idea, Martchenko adds a butterfly cloud of hearts around Elizabeth's smitten head.
---