New Treasures: Blackguards: Tales of Assassins, Mercenaries. and Rogues, edited by J.M. Martin
New Treasures: Blackguards: Tales of Assassins, Mercenaries. and Rogues, edited by J.M. Martin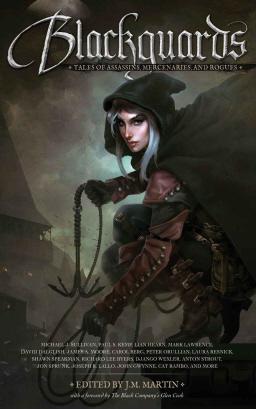 I first heard about the massive Blackguards anthology, which showcases tales of thieves, rogues and assassins, when Laura Resnick wrote a guest post for us last year, "Living Outside Society's Rules," talking about her short story "Friendship," set in the world of her Silerian trilogy and taking place a few years before the first book, In Legend Born.
I was intrigued… but since then I've learned that Blackguards contains stories set in over two dozen fantasy worlds, from writers like Mark Lawrence, Carol Berg, Mark Smylie, Django Wexler, Peter Orullian, and many, many more. This is an unprecedented opportunity to sample some of the most popular and innovative fantasy series on the market today, all in one place. Blackguards was edited by J.M. Martin and published this week by Ragnarok Publications. If you're at all interested in modern fantasy, this volume is an incredible bargain.
Whether by coin or by blood… YOU WILL PAY.

A fantasy anthology featuring the deadly, the worldly, and the sneaky. Blackguards consists mainly of stories in established series, and the authors range from wildly successful indie authors to New York Times bestsellers. Featuring tales set in the worlds of Michael J. Sullivan's Riyria, David Dalglish's Dezrel, Mark Lawrence's The Broken Empire, Lian Hearn's Tales of the Otori, Mark Smylie's Sword and Barrow, Anthony Ryan's Raven's Shadow, Shawn Speakman's Chronicles of Annwn, Carol Berg's Sanctuary, James A. Moore's Seven Forges, Django Wexler's Shadow Campaigns, Laura Resnick's Silerian Trilogy, Peter Orullian's Vault of Heaven, Kenny Soward's GnomeSaga, Paul S. Kemp's Egil and Nix, and more! If you enjoy roguish tales of scoundrels and ne'er-do-wells, many of them set in established worlds, Blackguards is for you!
Blackguards contains an introduction by Glen Cool, and 27 stories:
FOREWORD by GLEN COOK
CAROL BERG, "Seeds"
RICHARD LEE BYERS, "Troll Trouble"
DAVID DALGLISH, "Take You Home"
JAMES ENGE, "Thieves at the Gate"
JOHN GWYNNE, "Better to Live than to Die"
LIAN HEARN, "His Kikuta Hands"
SNORRI KRISTJANSSON, "A Kingdom and a Horse"
JOSEPH LALLO, "Seeking the Shadow"
MARK LAWRENCE, "The Secret"
TIM MARQUITZ, "A Taste of Agony"
PETER ORULLIAN, "A Length of Cherrywood"
CAT RAMBO, "The Subtler Art"
LAURA RESNICK, "Friendship"
MARK SMYLIE, "Manhunt"
KENNY SOWARD, "Jancy's Justice"
SHAWN SPEAKMAN, "The White Rose Thief"
JON SPRUNK, "Sun and Steel"
ANTON STROUT, "Scream"
MICHAEL J. SULLIVAN, "Professional Integrity"
DJANGO WEXLER, "The First Kill"
ANTHONY RYAN, "The Lord Collector"
PAUL S. KEMP, "A Better Man"
JAMES A. MOORE, "What Gods Demand"
JEAN RABE, "Mainon"
BRADLEY P. BEAULIEU, "Irindai"
S.R. CAMBRIDGE, ""The Magus and the Betyar"
CLAY SANGER, "The Long Kiss"
In addition, the eBook edition also contains a companion anthology, The Blackguards Blacklist, with eleven additional stories, bringing the total to 38:
ROB J. HAYES, "To the End"
REBECCA LOVATT, "To Steal the Moon"
EDWARD M. ERDELAC, "The Muttwhelp"
ANTHONY LOWE, "The Lonesome Dark"
LINDA ROBERTSON, "Comeuppance"
SAM KNIGHT, "The Assassination of Poppy Smithswife"
S.M. WHITE, "Telhinsol's Shadow"
NOAH HEINRICH, "The Laughing Wind"
MIKE THEODORSSON, "Bloody Gratitude"
BRENDA CARRE, "Gret"
ERIK SCOTT DE BIE, "Angel of Tears"
Blackguards was funded by an enormously successful Kickstarter campaign that completed on September 24, 2014, raising $38,631 against a $14,500 goal. One of the stretch goals was interior art (unlocked on August 31), which means the book is also copiously illustrated, with full-page artwork for every story. You can see samples of the interior art here.
Blackguards: Tales of Assassins, Mercenaries. and Rogues was published by Ragnarok Publications on April 26, 2015. It is 746 pages, priced at $9.99 for the digital edition. A print edition priced at $29.95 is forthcoming, and an unabridged audio edition will be available on June 9, 2015. The cover art is by Arman Akopian. Get more details at the Ragnarok website.
See all of our recent New Treasures here.