New Treasures: Dust and Light by Carol Berg
New Treasures: Dust and Light by Carol Berg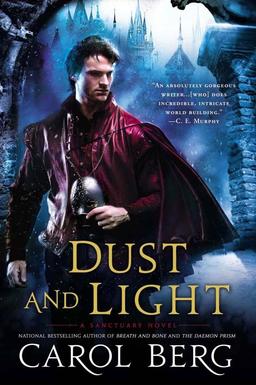 Carol Berg's first novel was Transformation, a Roc midlist paperback, in August 2000. It was a success and it became the first novel of the Rai-Kirah trilogy.
Some fourteen epic fantasy novels followed, including four in The Bridge of D'Arnath series and the Collegia Magica trilogy. There were a couple standalone titles in there as well, including Song of the Beast (2003), and the story "Unmasking," in the 2007 Elemental Magic collection.
The two novels in The Lighthouse Duet, Flesh and Spirit (2007) and Breath and Bone (2008), were set in the world of Sanctuary. Now Berg returns to Sanctuary with her latest novel, the first installment of a new duology.
How much must one pay for an hour of youthful folly? The Pureblood Registry accused Lucian de Remeni-Masson of "unseemly involvement with ordinaries," which meant only that he spoke with a young woman not of his own kind, allowed her to see his face unmasked, worked a bit of magic for her… After that one mistake, Lucian's grandsire excised half his magic and savage Harrowers massacred his family. Now the Registry has contracted his art to a common coroner. His extraordinary gift for portraiture is restricted to dead ordinaries — beggars or starvelings hauled from the streets.

But sketching the truth of dead men's souls brings unforeseen consequences. Sensations not his own. Truths he cannot possibly know and dares not believe. The coroner calls him a cheat and says he is trying to weasel out of a humiliating contract. The Registry will call him mad — and mad sorcerers are very dangerous…
Dust and Light was published by Roc Books on August 5. It is 445 pages, priced at $16 in trade paperback and $9.99 for the digital edition. The cover is by Gene Mollica.