Win a Copy of Patrick Swenson's The Ultra Thin Man
Win a Copy of Patrick Swenson's The Ultra Thin Man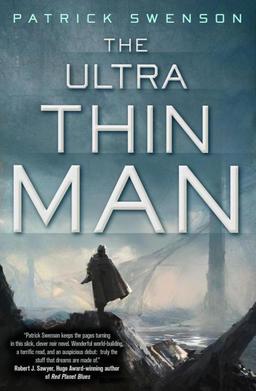 Patrick Swenson may be the coolest guy in the genre.
He started doing what all the cool people do, of course: editing a magazine. Patrick founded Talebones in 1995, a small press magazine of SF and dark fantasy, and he produced 39 issues over the next 14 years, discovering writers like Patrick O'Leary, Ken Scholes, Carrie Vaughn, and many others in the process. I called the magazine "a thoroughly impressive piece of work" when I reviewed issue #17 in 1999 for SF Site. Patrick then turned to small press publishing with Fairwood Press, where he's published over 50 books from folks like James Van Pelt, Mary Rosenblum, Ken Rand, Jay Lake, Michael Bishop, Devon Monk, Alexei Panshin, William F. Nolan, and dozens of others. Most recently he has turned his hand to writing, producing short stories for Marion Zimmer Bradley's Fantasy Magazine and other outlets.
Last year, Patrick announced that he'd sold his first novel, The Ultra Thin Man, to Tor, cementing his creative conquest of the entire genre. Not content with merely conquering science fiction, Patrick has also sent stories out to other genres, especially noir and detective fiction. Here's a snippet from his recent interview with Forces of Geek on the inspiration behind The Ultra Thin Man.
It probably goes without saying that Dashiell Hammett's novel The Thin Man was an influence, as was the 1934 film. Not so much for that particular plot, but the detective story in general. The witty dialogue. The one-liners. The back and forth repartee between the lead and other characters. Besides Hammett, I'd single out some of my favorite mystery writers, all of whom are masterful writing dialogue: Robert B. Parker, Elmore Leonard, Raymond Chandler, John D. Macdonald, and James W. Hall, to name a few.
To celebrate Patrick's deep contributions to fantasy over the decades — and the fact that one human being can attain this level of coolness — we're giving away a copy of The Ultra Thin Man, compliments of Tor Books.
How do you enter? Just send an e-mail to john@blackgate.com with the title "The Ultra Thin Man" and a one-sentence review of your favorite Tor fantasy novel. One winner will be drawn at random from all qualifying entries and we'll publish the best reviews here on the Black Gate blog.
All entries become the property of New Epoch Press. No purchase necessary. Must be 12 or older. Decisions of the judges (capricious as they may be) are final. Not valid where prohibited by law. Or anywhere postage for a hefty hardcover is more than, like, 10 bucks.
The Ultra Thin Man was published by Tor Books on August 12, 2014. It is 334 pages, priced at $25.99 in hardcover and $12.99 for the digital edition. The cover is by Victor Mosquera.