Future Treasures: Willful Child by Steven Erikson
Future Treasures: Willful Child by Steven Erikson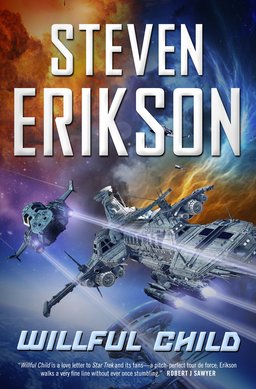 Since we've been talking about Steven Erikson and Ian C. Esslemont's Malazan books this weekend, I thought I'd slip in a mention of Erikson's upcoming novel Willful Child — which looks like a pretty significant departure from his epic fantasy roots.
Erikson completed his monumental Malazan Book of the Fallen with the tenth volume, The Crippled God, in March 2011. He didn't take much of a breather: Forge of Darkness, the first novel in his new Kharkanas Trilogy, appeared a year later; the second, Fall of Light, is scheduled to arrive next February. He's also been writing short tales featuring the necromancers Bauchelain and Korbal Broach — five so far, including Crack'd Pot Trail.
But now comes word that his latest book is a tongue-in-cheek space opera called Willful Child, which Robert Sawyer calls "A love letter to Star Trek and its fans — a pitch-perfect tour de force." Given Steven Erikson's gifts as a storyteller, and my own love of Star Trek, this has immediately become one of the most anticipated novels of the year for me.
These are the voyages of the starship A.S.F. Willful Child. Its ongoing mission: to seek out strange new worlds on which to plant the Terran flag, to subjugate and if necessary obliterate new life-forms, to boldly blow the…

And so we join the not-terribly-bright but exceedingly cock-sure Captain Hadrian Sawback and his motley crew on board the Starship Willful Child for a series of devil-may-care, near-calamitous and downright chaotic adventures through 'the infinite vastness of interstellar space.'

The New York Times bestselling author of the acclaimed Malazan Book of the Fallen sequence has taken his lifelong passion for Star Trek and transformed it into a smart, inventive, and hugely entertaining spoof on the whole mankind-exploring-space-for-the-good-of-all-species-but-trashing-stuff-with-a-lot-of-high-tech-gadgets-along-the-way, overblown adventure. The result is an SF novel that deftly parodies the genre while also paying fond homage to it.
Willful Child will be published by Tor Books on November 4, 2014. It is 352 pages, priced at $24.99 in hardcover and $11.99 for the digital version.