New Treasures: Crack'd Pot Trail by Steven Erikson
New Treasures: Crack'd Pot Trail by Steven Erikson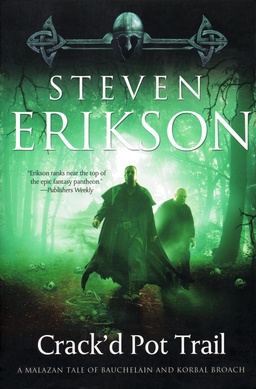 It was Jason Waltz, the hard-working mastermind behind Rogue Blades Entertainment, who first introduced me to the twisted and entertaining adventures of Bauchelain and Korbal Broach, the famed necromancers from the Malazan Book of the Fallen. With little in the way of redeeming qualities, Bauchelain and Korbal Broach — and their hard-drinking manservant, Emancipor Reese — are the unlikely protagonists in a series of short novels that mix comedy and horror in equal measure. This time they find themselves on the run from a group of skilled hunters determined to bring them to justice for their foul misdeeds.
It is an undeniable truth: give evil a name and everyone's happy.  Give it two names and… why, they're even happier.

Intrepid necromancers Bauchelain and Korbal Broach, scourges of civilization, raisers of the dead, reapers of the souls of the living, devourers of hope, betrayers of faith, slayers of the innocent, and modest personifications of evil, have a lot to answer for and answer they will. Known as the Nehemoth, they are pursued by countless self-professed defenders of decency, sanity, and civilization. After all, since when does evil thrive unchallenged? Well, often — but not this time.

Hot on their heels are the Nehemothanai, avowed hunters of Bauchelain and Korbal Broach. In the company of a gaggle of artists and pilgrims, stalwart Mortal Sword Tulgord Vise, pious Well Knight Arpo Relent, stern Huntsman Steck Marynd, and three of the redoubtable Chanter brothers (and their lone sister) find themselves faced with the cruelest of choices. The legendary Crack'd Pot Trail, a stretch of harsh wasteland between the Gates of Nowhere and the Shrine of the Indifferent God, has become a tortured path of deprivation.

Will honor, moral probity, and virtue prove champions in the face of brutal necessity? No, of course not. Don't be silly.
Bauchelain and Korbal Broach previously appeared in Blood Follows, The Healthy Dead, The Lees of Laughter's End (all previously collected in a single volume, Bauchelain and Korbal Broach: Three Short Novels of the Malazan Empire, Volume One), and The Wurms of Blearmouth. Crack'd Pot Trail was published September 13, 2011 by Tor Books. It is 204 pages, priced at $12.99 in trade paperback and $9.99 for the digital edition. I bought mine remaindered from Amazon.com for just $5.20; a handful of copies are still available at the discounted price.