Sleeps With Monsters on Martha Wells' The Element of Fire
Sleeps With Monsters on Martha Wells' The Element of Fire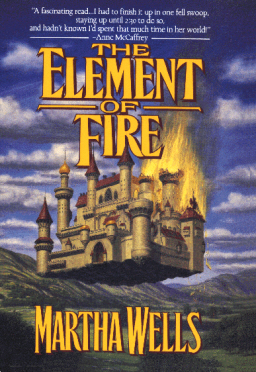 Martha Wells's first novel, The Element of Fire, was published twenty years ago this July. It marked the debut of a major new fantasy writer.
The Element of Fire is a standalone novel set in the country of Ile-Rien, the setting for her Nebula-nominated The Death of the Necromancer (1998) and the Fall of Ile-Rien trilogy. Martha's three contributions to Black Gate featuring her heroes Giliead & Ilias —  "Reflections," "Holy Places," and "Houses of the Dead" — helped put the magazine on the map. They are part of her Ile-Rien stories, and fill in some of the gaps between the novels.
Over at Tor.com, Liz Bourke kicks off an extended examination of Martha's novels with a look at The Element of Fire:
It's one of the best books I've ever read… and as a debut novel it is singularly accomplished.

The court of Ile-Rien, around which the action of The Element of Fire centers itself, is a complicated place. King Roland, recently come to his majority, is a weak ruler, warped by the abuse of his years-dead father. The court's real power remains the Dowager Queen, Ravenna…

Wells' deftness of characterization is delicate, precise and astute. An outside attack doesn't lead to all the court's factions banding together under capable leadership: rather it intensifies the amount of politicking and the coming-to-fruition of treasonous plots…. Wells has a fantastic touch for conjuring personality in all of her work…

I think it a fantastic book. In its honor, the next few installments of Sleeps With Monsters will focus on a selection of Martha Wells' other works: the Fall of Ile-Rien trilogy and Wheel of the Infinite, at least, and possibly a surprise or two as well.
The Element of Fire was published in July 1993 by Tor Books. It is 413 pages in hardcover. Read Liz Bourke's complete review here, and get the scoop on Martha's  latest novel, Emilie and the Hollow World, here.