David Wesley Hill's At Drake's Command Available Free in Kindle Format — Today and Tomorrow Only
David Wesley Hill's At Drake's Command Available Free in Kindle Format — Today and Tomorrow Only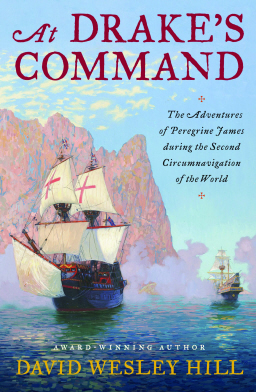 Editor's aren't supposed to have favorites — or we're not supposed to admit to favorites, anyway. So I'll temper what I wanted to say and just say this: I published two short stories by David Wesley Hill in Black Gate, and they were both so brilliant and unusual that I considered renaming the magazine David W. Hill's Magazine of Fantasy.
It's probably best that I didn't, since David has since gone on to a successful career as a novelist, and I'd be stuck with a magazine that didn't have any short stories in it. But I do urge you to check out "Far From Laredo" in Black Gate 4, in which gunslinger Charles Duke is hired to rid a town of three troublesome demons, and "The Good Sheriff" (BG 13), in which Duke finds himself up against a maimed god in a mining town full of sorcerers and demons.
Or, if you happen to have a Kindle, you could try David's latest adventure novel, the tale of young cook Peregrine James on an expedition under Francis Drake, for free:
It was as fine a day to be whipped as any he'd ever seen but the good weather didn't make Peregrine James any happier with the situation he was in. Unfairly convicted of a crime he had not committed, the young cook was strung from the whipping post on the Plymouth quayside when he caught the eye of the charismatic sea captain Francis Drake, who agreed to accept Perry among his crew despite the stripes of a thief on his back.

Soon England was receding in their wake and Perry was serving an unsavory collection of sea dogs as the small fleet of fragile wood ships sailed across the deep brine. Their destination was secret, known to Drake alone. Few sailors believed the public avowal that the expedition was headed for Alexandria to trade in currants. Some men suspected Drake planned a raid across Panama to attack the Spanish in the Pacific. Others were sure the real plan was to round the Cape of Storms to break the Portuguese monopoly of the spice trade. The only thing Perry knew for certain was that they were bound for danger and that he must live by his wits if he were to survive serving at Drake's command.
David's previous novel was the SF adventure Castaway on Temurlone.
At Drake's Command was published November 1, 2012 by Temurlone Press. It is 424 pages, priced at $14.95 for the trade paperback, and $2.99 for the digital edition. For today and tomorrow, you can get the Kindle edition for free here.