New Treasures: Castaway on Temurlone by David Wesley Hill
New Treasures: Castaway on Temurlone by David Wesley Hill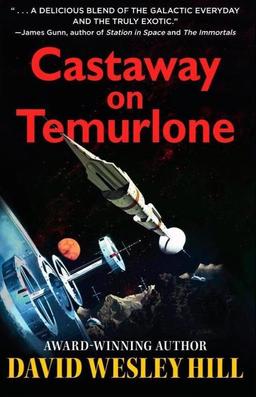 David Wesley Hill was known simply as David W. Hill when I bought his weird western "Far From Laredo" for Black Gate 4. Man, that was a great story. Gunslinger Charles Duke is summoned from 19th Century Texas by poor villagers to deal with three very different — and very deadly — demons. Strange seduction attempts, a forest of trees that used to be men, and a frog-demon blocking a bridge all challenge Duke on his journey… not to mention a reward that turns out very differently than expected.
Duke returned in "The Good Sheriff" in Black Gate 13, one of the strangest and most original tales I've ever published. Duke is hired as sheriff of a strange frontier town peopled by dogmen and demons… and a powerful sorcerer who knows how to send him home. But first he must confront a fallen god in an epic shootout in the middle of town.
I wish I could have published a great many more Charles Duke stories, but David turned his attention to novels — including the acclaimed At Drake's Command, which Awesome Indies called "A godsend to readers." But I admit I was most intrigued by his first novel, Castaway on Temurlone, featuring as it does space pirates, beautiful clones, and cannibal innkeepers.
It is indeed a Universe of Miracles! But not for young Pimsol Anderts, idle and jobless on a depressed, waterlogged world, until he signs aboard the interstellar freighter Miraculous Abernathy. Indentured to the aristocratic Wirthy family — and bewitched by beautiful Mirable Wirthy, the latest clone of the long-dead matriarch Imogene Wirthy — Pim's adventure has barely begun when pirates attack, forcing him to flee the ship with Mirable in tow.
Suddenly they are castaways on the primitive planet Temurlone. Separated from his beloved by the Marvelous Flying Bicycle Men and doomed to hard labor in the Temurlone meat mines, Pim knows that nothing can keep him from the woman who is his destiny. He will brave any trial an uncaring God puts before him — escaping the sensuous seductions of the Man Mother, surviving the culinary horrors of the cannibal innkeeper Harmony Repute, courageously facing the threat of eternal toil in the sweatshops of Charming Corners — in the name of love.
I finally bought a copy last month and was pleased to find a note on the last page reading "The adventures of Pimsol Anderts will continue in Escape from Temurlone." David was busy with other endeavors this year — his first short story collection, The Curtain Falls and Other Stories, appeared on April 20, 2013 — but I'll keep my eye out hopefully for more far-flung space adventures featuring Pimsol Anderts.
Castaway on Temurlone was published on August 11, 2011 by Temurlone Press. It is 289 pages, priced at $12.95 in trade paperback and $2.99 for the digital edition. The cover is by Vincent di Fate. Buy your copy at Amazon.com, Barnes & Noble, and other fine booksellers.