Steampunk Spotlight: The Steampunk Bible by Jeff VanderMeer with S.J. Chambers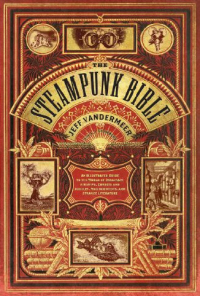 Over the last couple of Steampunk Spotlight posts, I've focused on steampunk in games (upcoming board game The Kings of Air and Steam and the roleplaying game Victoriana), but it's time to dive deep into the literary end of the pool, and there's nowhere better to start than in Jeff VanderMeer's gorgeous The Steampunk Bible (Amazon, B&N).
This book is a narrative and visual exploration of steampunk as a literary genre, a fan costuming phenomenon, and an artistic inspiration, certainly living up to its subtitle: An Illustrated Guide to the world of Imaginary Airships, Corsets and Goggles, Mad Scientists, and Strange Literature.
It's hard to imagine an aspect of the steampunk movement that isn't covered by this book full of full-color illustrations and photographs, mixed with interviews, anecdotes, lists, and analyses of steampunk-related themes.
Consider just a few of the fascinating articles/essays contained in this book:
Edgar Allen Poe: Perpetuator of the First Steampunk Hoax?
Brothers at Sea: Oshikawa Shunro and Verne's Influence in Japan
A Young Steampunk's Guide to Subgenres
Etching tins with Saltwater and Electricity
Steampunk Fashion: Four Styles
Eight Ways to Raise Your Steampunk Fashion Game
Can Airships Slouch Along? Can They Saunter?
Obscure Steampunk TV Moments