A (Black) Gat in the Hand: Dick Powell as 'Yours Truly, Johnny Dollar'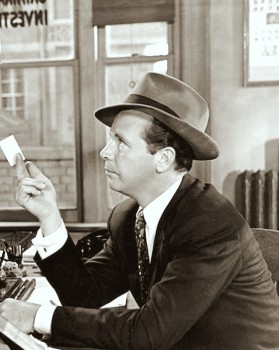 "You're the second guy I've met within hours who seems to think a gat in the hand means a world by the tail." – Phillip Marlowe in Raymond Chandler's The Big Sleep
(Gat — Prohibition Era term for a gun. Shortened version of Gatling Gun)
Dick Powell was Johnny Dollar? Well, no, not exactly. Yours Truly, Johnny Dollar, was a very successful radio show, which ran for over 800 episodes, covering thirteen years. It easily outlasted many competing programs, such as The Adventures of Sam Spade, and The (New) Adventures of Philip Marlowe. Dollar was "the insurance investigator with the action-packed expense account," though he started out as more of a typical private eye. Which can also be said of Erle Stanley Gardner's lawyer, Perry Mason.
In December of 1948, Dick Powell auditioned for the new show, recording the episode Milford Brooks III. With movies such as 1944's Murder My Sweet, and 1947's Johnny O'Clock, the popular song-and-dance man had carved out a niche as an unlikely hardboiled star. He's actually my favorite movie Marlowe, and I wrote about Johnny O'Clock here at Black Gate. Here's the episode, for your listening pleasure.
He had also spent the previous two years as Richard Rogue in the rather unusual PI radio show, Rogue's Gallery. Like many shows of the time, Rogue's Gallery had a lack of stability in network, time slot and even renewal, and Powell left after 1947, replaced by Barry Sullivan. This left him available to try out for Johnny Dollar. The original title was Yours Truly, Lloyd London, but was presumably changed to avoid trouble with the well-known insurance company.
However, it appears that Powell decided to pass on the part to pursue a different radio opportunity; Richard Diamond, Private Eye (another of my favorites). So, actor Charles Russell was given the part. This essay is going to talk mostly about Powell's audition, but will go beyond that focus.
In this earliest incarnation, Powell plays a somewhat light-hearted version of Dollar, though he's still more of a typical private eye than a distinctive insurance investigator. His witty patter is consistent throughout, and he even hums 'Slow Boat to China;' a tip of the fedora to his Hollywood musical background. In fact, Powell comes across as pretty similar to his next part, Richard Diamond.
Early on, a young man he's dealing with bites him, which later lets Dollar make a cryptic comment that "Let's just say, he put the bite on me." That comes just after saying, "That kid's liquor sure can hold him." Very much like Diamond, Powell's Dollar is quick with a quip. Which is fine. But it's more prevalent here than it would be with other actors in the role.