So, I've got over 1,500 words about season one of The Rings of Power, but it wasn't gonna be wrestled into shape for this morning. So, I'll work on tidying that up by next Monday. And I'm working on a basic Reader's Guide to The Silmarillion: which, while my favorite Tolkien book, is, admittedly, not an easy read. But that's not ready. So, I decided to write about a few Tolkien-related topics today. And awaaaay we go:
Lord of the Rings Online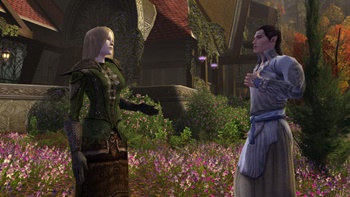 I mentioned in last week's article that Elder Scrolls Online replaced Age of Conan as my favorite MMO. Over the last year, I made my first dive into Lord of the Rings Online (LotRO). I'm not a fan of the Turbine engine, which LotRO uses. As does the original Dungeons and Dragons Online game, and Asheron's Call. I find the Neverwinter Nights MMO engine much better for my D&D fix.
I played a dwarf up to halfway through the Mines of Moria expansion. ESO and Age of Conan – and even Neverwinter Nights – are better MMOs. That Turbine engine is dated, and clunky. The graphics are okay, but definitely inferior to Age of Conan and Elder Scrolls Online. It's not even remotely close.
But for a Tolkien fan, the lore in LotRO is simply fantastic! From The Shire, to Moria, to the North Downs: it is literally a chance to live in Middle Earth. The game is worth playing alone for the depth of setting, and the capturing of the lore. If I weren't enjoying ESO so much, I would be continuing on in LotRO. It's very easy to solo, which is how I play MMOs. If you're a gamer, and you want to experience Tolkien, this is the game for you. How much you actually like the Turbine engine will probably determine if you stick with it or not.