A (Black) Gat in the Hand: Dime Detective – August, 1939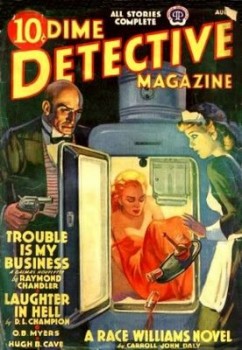 "You're the second guy I've met within hours who seems to think a gat in the hand means a world by the tail." – Phillip Marlowe in Raymond Chandler's The Big Sleep
(Gat — Prohibition Era term for a gun. Shortened version of Gatling Gun)
Dime Detective hit newsstands in November of 1931. The pulp would become Black Mask's most enduring competition. In fact, Black Mask would be bought by Dime Detective's publisher and the latter would outlast the legendary magazine. I'm a big fan of Dime Detective and I'm working on a post about the magazine for Todd Vick's excellent pulp blog, On An Underwood #5 (I'm sure you deduced that it's Robert E. Howard-centric!).
Editor Kenneth S. White was given marching orders to lure as many Black Mask writers as he could, offering an extra penny a word – a palpable pulp inducement! Most pulps paid one (or even less!) cent per word. Two cents was a desirable wage, which is why so many of the successful pulpsters turned out such prodigious word counts. They needed to just to make a living. Black Mask paid three cents a word, indicative of its status and quality. Dime Detective offering an extra penny a word was significant bait.
Many of Black Mask's writers jumped ship: Erle Stanley Gardner, Frederick Nebel, Carroll John Daly, T.T. Flynn and Frederick C. Davis among them. Norbert Davis, whose hardboiled humor wasn't to editor Cap Shaw's taste, flourished at Dime Detective. Davis is one of my favorites, which you surely know because you read this A (Black) Gat in the Hand post a few weeks ago!
When Shaw was relieved of duties in 1936, Raymond Chandler would quit Black Mask and write for Dime Detective.
Billing itself as "twice as good for half the price" (Black Mask cost twenty cents), Dime Detective lasted until August, 1953, by which time the paperback revolution had killed the pulps. Black Mask had packed it in after the March, 1950 issue.
The August, 1939 issue of Dime Detective screams out 'Quality!' It included Raymond Chandler's "Trouble is My Business," featuring his Philip Marlowe-ish John Dalmas. It effectively marked the end of his writing detective stories for the pulps. There would be one more mystery in Detective Story, but with The Big Sleep coming out in 1939, followed by Farwell My Lovely in 1940, he worked the detective novel going forward. In the lexicon of hardboiled, it's Hammett, Chandler and everyone else (Some are inclined to make it a threesome with Ross MacDonald, but I'm not in that camp). Chandler wanted to write literary hardboiled stories. He succeeded. Sometimes, his prose is beautiful. Other times, it is overly pretentious. His plotting is…complex. I used to dislike Chandler's works, but I'm warming up to him.
Carroll John Daly's Race Williams (present here in "Gangman's Gallows") was massively popular in the pages of Black Mask in the twenties and early thirties – even though editor Joseph Shaw did not like Daly's writing. Williams came to Dime Detective with Daly and appeared in 21 stories; three more the author's rather ridiculous Vee Brown  (I'm not a big fan of crusading employees of the District Attorney who write Brill Building-type smash hits in their off time, making them wealthy).