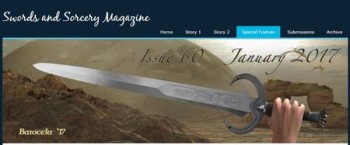 Welcome to the first short story roundup of 2017. While I won't neglect the past month's heroic fantasy, there's been an explosion of new magazines, and I think John O'Neill sent me copies of all of them. So, next to Swords and Sorcery Magazine (which I woefully neglected for the past two roundups), there is the cool, old-school-looking The Audient Void, and the magnificently-produced Occult Detective Quarterly.
Issue 60 of Swords and Sorcery Magazine marks the completion of five years of continuous existence for the 'zine. Every month, for sixty months, editor Curtis Ellett has published two new works of heroic fantasy. To mark this milestone, he has gotten new banner art and included an extra-long bonus story.
"Princess in a Bottle" by Christopher G. Hall is a familiar tale of talented, penniless adventurer hired for dangerous mission. There are some not-too surprising twists, and a ferocious beast described as "ghastly and uncouth," which makes it sound like he chewed with his mouth open. I will remember it for the great name of its hero, Cat-eye Jack, if nothing else.
James Van Pelt's "The Sword Imperial" is an ambitious work. Hndred, a young farmer, discovers a jeweled sword buried on his land. Inspired by his late father's military days and fired by the stories of an army officer passing through town, he leaps when the chance arises to prove his bravery. Nested within Hndred's own story are those of several other famous and infamous swords. I much prefer Van Pelt's straightforward depiction of bravery instead of the "deconstruction" it's subjected to so often today.
---