January Short Story Roundup
January Short Story Roundup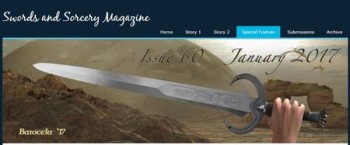 Welcome to the first short story roundup of 2017. While I won't neglect the past month's heroic fantasy, there's been an explosion of new magazines, and I think John O'Neill sent me copies of all of them. So, next to Swords and Sorcery Magazine (which I woefully neglected for the past two roundups), there is the cool, old-school-looking The Audient Void, and the magnificently-produced Occult Detective Quarterly.
Issue 60 of Swords and Sorcery Magazine marks the completion of five years of continuous existence for the 'zine. Every month, for sixty months, editor Curtis Ellett has published two new works of heroic fantasy. To mark this milestone, he has gotten new banner art and included an extra-long bonus story.
"Princess in a Bottle" by Christopher G. Hall is a familiar tale of talented, penniless adventurer hired for dangerous mission. There are some not-too surprising twists, and a ferocious beast described as "ghastly and uncouth," which makes it sound like he chewed with his mouth open. I will remember it for the great name of its hero, Cat-eye Jack, if nothing else.
James Van Pelt's "The Sword Imperial" is an ambitious work. Hndred, a young farmer, discovers a jeweled sword buried on his land. Inspired by his late father's military days and fired by the stories of an army officer passing through town, he leaps when the chance arises to prove his bravery. Nested within Hndred's own story are those of several other famous and infamous swords. I much prefer Van Pelt's straightforward depiction of bravery instead of the "deconstruction" it's subjected to so often today.
The bonus story is by Robert Mammone, a writer I've written approvingly of in the past. On his own site he describes the story "Only the Guilty Live" as inspired by Dave Gemmell's work. I haven't read enough Gemmell to affirm the comparison, but this story is brutal and dark — dark as the black-lined interior of a closed coffin.
In the middle of suppressing a massive rebellion, veteran commander Marduk is sent behind the lines at a siege to recover an important nobleman. The missing man was the administrator of Glorka, the mutinous province, and has now vanished behind the walls of its capital city. Whether it's to be a rescue or a capture won't be known until it's clear if he's been imprisoned or defected.
Marduk is assigned a trio of people with intimate knowledge of Glorka — two soldiers and an escaped slave pit fighter. To enable them to track their human quarry, Marduk and his party are assigned a Child along with its handler. The Child is an enslaved demon, housed in the body of an actual child.
Marduk heard shuffling and then the Child stood next to Valens.

Black hair, unwashed and stringy, hung over its face. A rusted iron collar sat loosely round its neck with the chain welded to it. A grey smock, stained with sweat, hung to bony knees. It didn't look as if it felt the cold. Chalk white arms showed veins as black tracks. Marduk glimpsed wide black eyes staring from beneath the ragged fringe and saw a deep red tongue, almost purple, lick pale lips. Behind those lips, sharp as needles teeth gleamed white.

'We can't take a girl with us,' Colm said. He walked up and stood beside Marduk. 'What foolishness is…' His voice choked off when he saw the Child. It looked at him, face blank and predatory at the same time. Blood drained from his face.

'What is it?' Marduk said.

'Nothing,' Colm said, suddenly angry. 'I thought… nothing.'
Once Marduk and his team set out on their mission, everything starts to go wrong. Unanticipated obstacles, demonic disasters, a collapsing city wall all conspire to prevent the soldiers from reaching their goal. Nothing they find is expected. Terrors, some from inside their own minds, are unleashed on them. While the general turn of the story isn't startling, the depth of despair and rage with which it's told, is. Mammone spins a taut tale, painted in deep shades of black, from which, by the end, all light has been removed.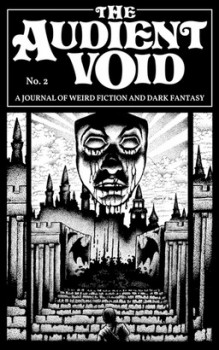 I'm miffed I missed the premiere issue of editor Obadiah Baird's The Audient Void last fall, because the one I just read, No. 2, is well done fun. First, it's put together nicely, and has good spooky black and white art by Allen Koszowski and Brad Hicks. Billed as a "journal of weird fiction and dark fantasy," AV is similar in tone to Skelos (reviewed here), with a mix of horror and dark fantasy, but shorter, with more poetry and less non-fiction. There are two stories, a passel of poems, and one article about collecting The Lovecrafter, an annual publication honoring the gentleman from Providence.
The first story, "That Particular Frustration" by Adam Gallardo, is an extremely un-erotic story of sex magic gone wrong in the weirder reaches of Portland, Oregon. The narrator, a stage magician with real magical powers, is summoned by a friend to handle some spell-casting gone horribly awry. The story suffers from too much of the action occuring off stage, but does benefit from Gallardo's depiction of the seedy backways of its setting.
Black Gate alumnus John Fultz is on hand with "The Penitence of the Blade," wherein a depressed soldier is roused from the slough of despond when he sees the desperate need for a hero. The story's battered protagonist has hoped to lose himself in the dreams invoked by a narcotic called the Dragon's Breath. When he discovers the true cost of securing the drug, he finds the old calling as a defender still exists inside him. Fultz writes old school swords & sorcery with a great big heart, and this story is is no exception.
The poems, and there are seven of them, are a varied bunch. Other than telling you to read them and decide for yourself, I don't have much to say for them. Some I liked, others not so much. David Barker's article, "Ye Olde Lemurian," is a fun account of fanzine publishing and collecting.
Considering how few physical books and magazines I read anymore, I was surprised how much I enjoyed holding AV and seeing the art in the flesh, as it were. Congratulatons to Mr. Baird, and I'll definitely keep my eyes peeled for the next issue.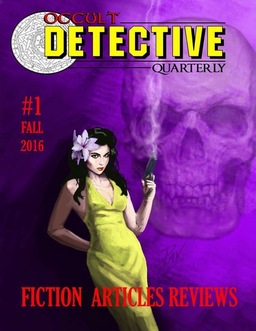 Occult Detective Quarterly #1 doesn't have a single word that can be called swords & sorcery and I don't care, because it's packed to the rafters with some really good storytelling and writing. There are seven stories, the first chapter in a round robin novel, and three non-fiction articles. The publication is a thing of quality, with well laid out pages and some excellent black and white art. You can see for yourself in John O'Neill's piece about ODQ here.
In an opening stratement, editors Sam Gafford and John Linwood Grant state their plans for the magazine to provide a space for characters like William Hope Hodgson's classic investigator Carnacki and Jim Butcher's Harry Dresden, but also for "Japanese Shinto priests, First Nation law enforcement officers and gay Edwardian psychologists. Not forgetting detectives who aren't even human." With tales that stretch from the Victorian Era to the present and from London to Los Angeles, they make a good go of it their first time out.
David T. Wilbanks and William Meikle kick the magazine off with "Got My Mojo Working." It's about a tough private eye named Gus who investigates the supernatural… and who happens to be a gorilla. Yeah, you read that right: a gorilla. The illustration alone for this one makes it worth it.
I wasn't shocked at the conclusion of Amanda DeWees' "When the Soft Voices Die," but the prose is wonderful. The depiction of the cold, haunted house is splendid, as is that of the heroine, actress and fledgling medium Sybil Ingram. She's adventurous, dogged in her determination to uncover a fifty year old mystery, and has just enough snark to be appealing as opposed to irritating.
Left in need of place to stay after a fire, she's forced to take up temporary residence in a haunted room. Unlike her host family, whose members either fear or ignore the room, Sybil, instead, is curious about what's actually going on. When a silver fork drops out of the darkness onto the floor of her room her very first night there, she gets the chance to investigate.
Adrian Cole's "Don't Say I Didn't Warn You" stars his series character, Nick Stone, aka Nick Nightmare. Nick's a specialist at dealing with the world of magic and monsters called Pulpworld. Because of his talents he's approached by Isiah Constantine Massamboula, one of the richest men in the world. He wants Nick to help him procure certain unnamed objects from Pulpworld. It's a nice introduction to Cole's character, someone whose adventures I'll hunt down more of in the future.
In "Orbus Tertius" by Josh Reynolds, the wonderfully named Charles St. Cyprian and his associate, the tough-talking Ebe Gallowglass, take on evil within the walls of the Voyagers Club. St. Cyprian is the Royal Occultist and has been called to the club for a certain purpose. As he explains to Gallowglass:
"Someone went somewhere unpleasant, found something odd and now, after carting it from God alone knows where, across trackless deserts and vast mountain ranges, they'd like to know what it is, please."
Despite having been warned in the past — by Carnacki himself, no less — that most of the objects recovered by their members would be better left alone, the club almost never heeds the advice. This time around, it will cost them dearly.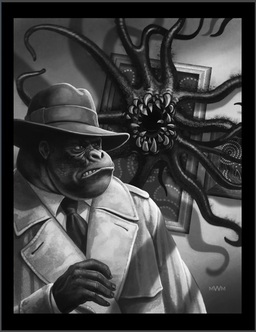 The longest story in the issue, "MonoChrome" by T.E. Grau, follows ex-cop Henry Ganz through the low streets of contemporary Los Angeles straight to the Apocalypse. Grau's LA positively vibrates with life as Ganz shuttles between bars and crime scenes and cafeterias trying to figure out the strangely ordered insanity overtaking the city. Beneath the city's changes, some of them going back over half a century, he discovers something bent on remaking, restructuring it into something horrible.
For someone to whom LA exists only as something on movie or TV screen, Grau conveys Ganz's deep love for his city, and his anger over how it's changing, in a way that brought it electrifyingly to life. Its superlative evocation of a city being undermined, as well as its narrative that builds to a mind-blowing epic finale, is the highlight of of ODQ #1.
In "The Baron of Bourbon Street" by Aaron Vlek, New Orleans Police Detective Alfonse de Cartier has a leg up on his fellow officers: voodoo loa Baron Samedi has taken him under his wing. As strange murders start taking place on the city's streets, de Cartier is forced to call on his supernatural patron for help. More than the mortal investigator, the star of this one is the arrogant, deadly, and charismatic Baron.
The last story is Oscar Dowson's "The Adventure of the Black Dog." It's a tale of Victorian London and a spectral sending. The narrator, returned home from South Africa and the Boer War, finds himself confronted by the ominous canine of the title on his front stoop one evening.
'No one home, boy?' I ventured feebly. The black dog remained motionless in his hostile vigil. After a moment, I stepped onto the landing. That seemed to break his spell. He stood up, coughed, and slowly turned his black bulk to face me. If I had hackles like Hisser, they would certainly have risen! The black dog looked at me with an expression of pure malevolence that I find difficult to describe, but it filled me with such horror, such dread that instantly I stepped back across my threshold and slammed fast the door.
Fortunately, he meets a man who has seen the dog too, and offers to help him. That man bears the remarkable name of Dr. Henry Jerusalem Crow. Dowson writes in an enjoyable style, reminiscent of a real Victorian writer's, and manages to avoid it becoming cliché-ridden. It's clear Dowson intends further adventures for Crow and his companions, and I'm looking forward to reading them.
The final work of fiction is the first chapter of "a multi-chapter serial story" called The Occult Legion. This installment is by William Meikle. I freely admit to not reading it. I'm experienced enough to avoid serialized things until they're done. What if it's the greatest story in the world and it never makes it to the end? Then where'll I be? So, I'm sorry, but I'll wait till it's done, and then report back.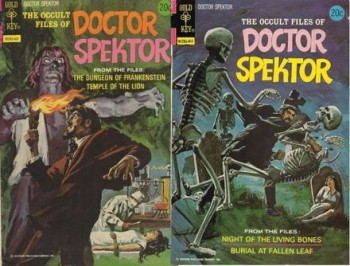 There's also a trio of good non-fiction articles. Two are by Charles R. Rutledge and will tell you everything you need to know about Gold Key Comics' supernatural detective, Dr. Spektor. The first explores the history of the character and the second is an interview with his creator, Don F. Glut. Rutledge's articles make me want to run out and track down the good doctor's adventures.
Titled "How to be a Fictional Victorian Ghost Hunter (In Five Easy Steps)," the third article is by Tim Prasil. I was disappointed to discover it's not a real how-to-guide, but instead only an enjoyable overview of several occult detective stories from the genre's early days.
ODQ wraps up with some reviews, something I'm grateful for in this age of information overload. It's always nice to have someone else do the hard work of reading something and letting me know if it's actually good or not.
I hope you enjoyed our break (mostly) from the regularly scheduled swords & sorcery programming. I'm happy to see The Audient Void and Occult Detective Quarterly join the ranks of fun new magazines. I may not get back to both of them every time, but I will be getting back to them. Sure, unlike Swords and Sorcery Magazine, you have to pay for each of them, but for the quantity and quality of their contents, I definitely think they're worth it. So, there you go, folks — another month, another roundup. Next time out: Heroic Fantasy Quarterly's Winter issue and who knows what else.
---
Fletcher Vredenburgh reviews here at Black Gate most Tuesday mornings and at his own site, Stuff I Like when his muse hits him. You can read the last short story roundup here.