Battles with Blades and Bows, and Creatures Charming and Terrifying: Journeys, edited by Teresa Edgerton
Battles with Blades and Bows, and Creatures Charming and Terrifying: Journeys, edited by Teresa Edgerton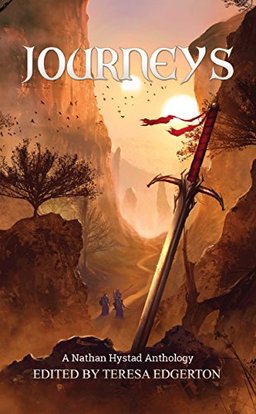 I admit it. As both a writer and a reader, I'm a sucker for a good themed anthology. The writer in me loves responding creatively to a prompt, finding inspiration in the unexpected. The reader in me is always fascinated to see the range of tales a collection of talented, thoughtful authors can tease from a shared basic notion.
Journeys, an epic fantasy anthology, edited by Teresa Edgerton and published by Nathan Hystad's imprint, Woodbridge Press, hits the cybershelves on February 15th. For fans of sword and sorcery, of legend and myth, of quests and creatures and unforeseen narrative twists, it is a strong, at times compelling collection of short fiction from fourteen accomplished authors. The theme for the anthology is fairly simple and broad enough to allow every contributor as much freedom as possible. As Hystad put it, "Though I was asking for a common trope, the genre could be… really any fantasy style, with a journey, quest, or adventure as the central premise."
Great anthologies often bring together a mix of established authors, and writers who are just at the start of their professional careers. On the one hand, we have well-known artists who can be counted on to build on a long personal history of excellent storytelling. We also encounter, though, the fresh voice, the writer whose name is not yet familiar, but whose talent shines through in the most surprising ways. With Journeys, Teresa Edgerton has managed to strike such a balance, bringing together authors from the UK. and the US, some with long resumés, some with only a story or two to their credit.
Among the more established names, we find John Gwynne, who draws inspiration from Celtic legend in "The Sundering," a story of love, betrayal, and vengeance. Gail Z. Martin, who on her own and with her husband, Larry N. Martin, has penned several series ranging from epic fantasy to steampunk to urban fantasy, gives us a tale set in the universe explored by her Fallen Kings Cycle. Adrian Tchaikovsky and Juliet E. McKenna, who have enjoyed success in the U.K. as well as the U.S., give us a pair of powerful narratives. Tchaikovsky's "The World Wound," follows rivals who must work together to heal a rift in the fabric of the world that threatens the very existence of humanity. McKenna, in "The Road to Hadrumal," has returned to one of her own previously explored worlds to craft a story of magic and hope.
As good as these stories are, however, it is the hidden gems that make this anthology such a pleasure to read. Before cracking the virtual spine on Journeys, I had not yet had occasion to read any work by Samantha R. Primeau, Dan Jones, Anna Dickinson, Juliana Spink Mills, Julia Knight, or Steven Poore. Clearly, the loss had been mine, and I'm grateful to Hystad and Edgerton for bringing these writers to my attention.
"Quests and Answers," by Primeau, is a delightful story of a boy named Daven and his vision quest. It is one of the shortest tales in the collection, but it might well have been my favorite. Dickinson's "Tomas and the Virgin" is another jewel, told with humor, irony, and brutal clarity. And so it goes. From the bitter revelations of "Fool's Quest" by Mills, to the startling conclusions of Jones's "A Warm Heart" and Knight's "The Troll Hunt," to the effective Stranger-Comes-To-Town feel of Poore's "The Witness," these stories entertained me, surprised me, and left me hungry for more. The anthology also features compelling stories from Thaddeus White, Davis Ashura, Charlie Pulsipher, and Jacob Cooper.
Taken together, these fourteen works of short fiction transport the reader to fanciful and fascinating lands, allowing us to tag along on journeys of the road, the mind, the heart. There is plenty of action here — battles fought with blades and bows, encounters with creatures both charming and terrifying — as well as magic and romance, mystery and intrigue. At the root of it all, though, is some damn fine writing.
Fans of quest fantasy, of journeys into the unknown, rejoice. You have a new collection of stories to read. Journeys drops on February 15. Do yourself a favor and give it a read.
---
David B. Coe/D.B. Jackson is the award-winning author of nineteen fantasy novels and a number of short stories. As David B. Coe, he is the author of the Crawford Award-winning LonTobyn Chronicle, which he has just reissued, as well as the critically acclaimed Winds of the Forelands quintet and Blood of the Southlands trilogy. Most recently he has completed The Case Files of Justis Fearsson, a contemporary urban fantasy from Baen Books. Under the name D.B. Jackson, he writes the Thieftaker Chronicles, a historical urban fantasy series from Tor Books. David's work has been translated into a dozen languages.
He lives on the Cumberland Plateau with his wife and two daughters. They're all smarter and prettier than he is, but they keep him around because he makes a mean vegetarian fajita. When he's not writing he likes to hike, play guitar, and stalk the perfect image with his camera.