New Treasures: Devil's Call by J. Danielle Dorn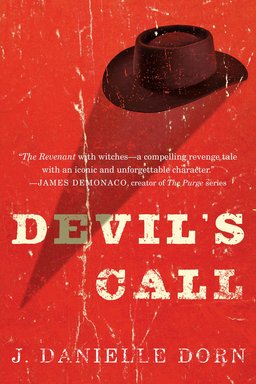 I like to mix things up in the New Treasures pipeline, offering titles from a range of different publishers. I've featured several novels from Inkshares in just the past few weeks — including teleportation thriller The Punch Escrow, and Quebec horror novel The God in the Shed — so when a new Inkshares novel, J. Danielle Dorn's debut fantasy Devil's Call, landed on my desk last week, I figured it was a long shot.
But that was before I read the description. The Bibliosanctum calls it "One of the best novels I've read this year," and James Demonaco, creator of The Purge movie trilogy, calls it "The Revenant with witches." Devil's Call leapfrogged several titles that have been waiting patiently in the queue, and I think you'll thank me.
On a dark night in the summer of 1859, three men enter the home of Dr. Matthew Callahan and shoot him dead in front of his pregnant wife. Unbeknownst to them, Li Lian, his wife, hails from a long line of women gifted in ways that scare most folks ― the witches of the MacPherson clan — and her need for vengeance is as vast and unforgiving as the Great Plains themselves.

Written to the child she carries, Devil's Call traces Li Lian's quest, from the Nebraska Territory, to Louisiana, to the frozen Badlands, to bring to justice the monster responsible for shooting her husband in the back. This long-rifled witch will stop at nothing ​― ​and risk everything​―​in her showdown with evil.
Devil's Call will be published by Inkshares on August 8, 2017. It is 275 pages, priced at $14.99 in trade paperback and $6.99 for the digital edition. The cover is by David Drummond.
See all our recent New Treasures here.