The Dead Ride Fast
The Dead Ride Fast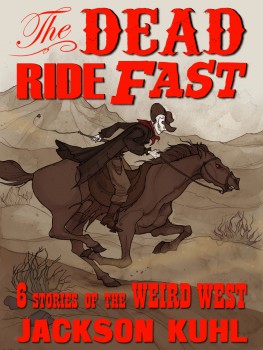 Hey nerds! My latest collection, The Dead Ride Fast, is available at Amazon and Kobo.
It certainly feels like there's been a recent abundance of weird Western fiction. Just this past summer alone several anthologies appeared on shelves, and even straitlaced historical magazines like True West have published listicles celebrating the genre.
Yet oddly we seem to have hit peak weird West way back in 2014, with searches today chugging along at 50 percent of that frequency. Still, the fact that searches haven't dropped precipitously suggests a steady and abiding interest in cowpokes and aliens and zombies.
The Dead Ride Fast bundles together five previously published short stories of mine that appeared in Black Static and anthologies such as Eric Guignard's Dark Tales of Lost Civilizations (nominated for a Stoker!). Also included is an original story involving a spoopy haunted house.
A gang of bank robbers arrives in a town where everyone knows the future. A prospector discovers the cost of gold is the loss of himself. An abandoned ranch house conceals a dark history. An ailing sailor is initiated into a secret world after consuming an unusual medicine. A businessman reopens a silver mine that should have been left sealed. Two young girls confront a string of unnoticed disappearances.
Just in time for Halloween! Makes a great gift!
If you're interested in the collection's provenance — how the book came together and the stories behind the stories — I've been blabbering about it at my blog.