December Issue of The Dark Now on Sale
December Issue of The Dark Now on Sale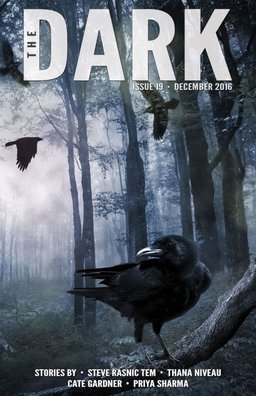 The Dark switched to monthly publication in May, and has had a terrific year so far. It's published original fiction from Steve Rasnic Tem, Steve Berman, Kali Wallace, Leena Likitalo, A.C. Wise, Cassandra Khaw, and many others, and reprints from Angela Slatte, Tananarive Due, Helen Marshall, Seanan McGuire, Gemma Files, Stephen Graham Jones, Robert Shearman, Mark Morris, and others. At $1.99 per issue, it's one of the best bargains in the field.
The Dark is edited by Sean Wallace, with assistance by Jack Fisher. It is published online and in digital formats, and includes two original stories and two reprints each issue. Here's the Table of Contents for issue #19, cover-dated December 2016.
"Too Many Ghosts" by Steve Rasnic Tem
"The Curtain" by Thana Niveau (from Postscripts 32/33: Far Voyager, November 2014)
"As Cymbals Clash" by Cate Gardner
"The Absent Shade" by Priya Sharma (from Black Static, Issue 44, January/February 2015)
You can read issues free online, or help support the magazine by buying the ebook editions, available for the Kindle and Nook in Mobi and ePub format. Issues are around 50 pages, and priced at $2.99 through Amazon, B&N.com, Apple, Kobo, and other fine outlets — or subscribe for just $1.99 per issue. If you enjoy the magazine you can contribute to their new Patreon account here. You can also support The Dark by buying their books, reviewing stories, or even just leaving comments.
Read the December issue here, and see their complete back issue catalog here. The December cover is by Susanafh. We last covered The Dark with the August issue.
See our Late November Fantasy Magazine Rack here, and all of our recent Magazine coverage here.