New Treasures: Deadlands: Boneyard by Seanan McGuire
New Treasures: Deadlands: Boneyard by Seanan McGuire
I must admit that my first thought on laying eyes on Deadlands: Boneyard was, "What the heck is Seanan McGuire doing writing a gaming tie-in?"
After all (as the cover of Boneyard proudly boasts) McGuire is a New York Times bestselling author all on her own, for her zombie Newflesh series (published under the name Mira Grant). It's not often you see bestselling writers dabbling with game books. But who knows? Maybe she's always wanted to write a Weird Western. Maybe she loves the Deadlands setting. Or maybe she promised Jay Lake she'd do it. (The dedicated to Boneyard reads, "For Jay Lake. Didn't I always promise you a midway?", whatever that means.)
But whatever the reason, I'm glad to have it. It went right to the top of my Halloween reading pile this year.
Ross Johnson, over at the Barnes & Noble Sci-Fi & Fantasy Blog, calls it "Brilliantly Creepy, Even for Non-Gamers." Here's a snippet from his review.
This is not just a solid game tie-in, but a strong candidate for the most brilliantly creepy book of the fall…

The Deadlands RPG is based on the premise that, in 1863, a Sioux shaman attempted a ritual to drive away white settlers, inadvertently creating a gateway to a realm of malicious entities with designs on all of Earth. They're essentially seeking to release dark magic and evil creatures upon the world in order to transform it into a hell of their liking…

At heart, this is the story of a single mother struggling to raise a daughter under a particularly unique and trying set of circumstances. As in the the best horror, the creatures and the creepy setting are just the backdrop against which that emotional journey plays out. Yet what an incredible, evocative backdrop it is — and Annie Pearl is so well developed and grounded as a character, she slides right into a world of steampunk, monster horror, and alt-history. Deadlands: Boneyard is compellingly dark and wonderfully chilling, but with a warm human heart, and as the nights grow longer and the shadows grow deeper, it is an absolutely perfect book for fall.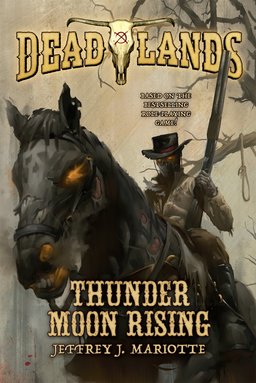 Read his complete review here.
One of the things I enjoyed about the Deadlands RPG was the distinctive (and creepy) artwork, which is a huge part of the game's identity. The publishers acknowledge that, as Boneyard contains over a full-dozen full-page b&w illos by Steve Ellis, which complement the story very nicely.
Boneyard is the third novel in the series. The first two were:
Deadlands: Ghostwalkers by Jonathan Maberry (2015)
Deadlands: Thunder Moon Rising by Jeffrey Mariotte (2016)
You can read the first chapters of all three books at the Macmillan/Tor site.
Ghostwalkers — Chapter One
Thunder Moon Rising — Chapter One
Boneyard — Chapter One
I don't know if there will be any more books in the series, but I'm very pleased to have these three. Deadlands, created by Shane Lacy Hensley for his Weird Western role playing game, is a terrific setting, and I'm glad to see it explored by three such talented writers. As I said in my article on Ghostwalkers, anything that gleefully mixes steampunk, zombies, RPGS, and the Weird West is A-OK in my book.
Deadlands: Boneyard was published by Tor Books on October 17, 2017. It is 332 pages, priced at $16.99 in trade paperback and $9.99 for the digital edition. The cover is by Aaron J. Riley, and the interior illustrations by Steve Ellis.
See all of our recent New Treasures here.