New Treasures: Deadlands: Thunder Moon Rising by Jeffrey Mariotte
New Treasures: Deadlands: Thunder Moon Rising by Jeffrey Mariotte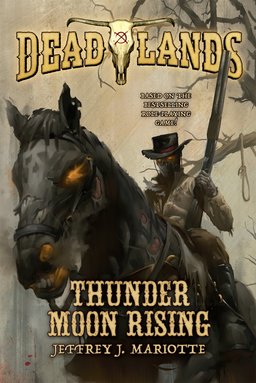 After saying a few words about Laura Anne Gilman's upcoming novel The Cold Eye — in which the devil runs a saloon on the American frontier, and sends a sixteen year old girl out to fight monsters for him — it got me hankering to seek out more weird westerns.
I didn't have to look far. Tor Books and Pinnacle Entertainment (creator of the Deadlands RPG) have a promising weird western series on the go, set in the undead-haunted frontier of Deadlands. The latest installment, Thunder Moon Rising, was released in trade paperback in September. It was written by Jeffrey Mariotte, author of the horror novels River Runs Red and Cold Black Hearts.
Fear is abroad in the Deadlands as a string of brutal killings and cattle mutilations trouble a Western frontier town in the Arizona Territory, nestled in the forbidding shadow of the rugged Thunder Mountains. A mule train is massacred, homes and ranches are attacked, and men and women are stalked and butchered by bestial killers who seem to be neither human nor animal, meanwhile a ruthless land baron tries to buy up all the surrounding territory-and possibly bring about an apocalypse.

Once an officer in the Union Army, Tucker Bringloe is now a worthless drunk begging for free drinks at the corner saloon. When he's roped into a posse searching for the nameless killers, Tuck must rediscover the man he once was if he's to halt the bloodshed and stop occult forces from unleashing Hell on Earth… when the Thunder Moon rises.
We covered the previous volume in the series, Jonathan Maberry's Ghostwalkers, last year.
Deadlands: Thunder Moon Rising was published by Tor Books on September 20, 2016. It is 397 pages, priced at $15.99 in trade paperback and $9.99 for the digital version.