Future Treasures: Deadlands: Ghostwalkers by Jonathan Maberry
Future Treasures: Deadlands: Ghostwalkers by Jonathan Maberry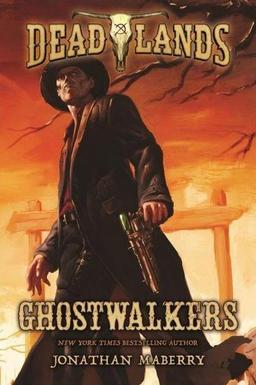 I'm a big fan of weird westerns, and I think at least part of that stems from my early interest in Deadlands, the classic Weird Western RPG first published by Pinnacle in 1996. It's one of the most original and inventive games of my acquaintance, and a terrific adventure setting.
So I was excited to see Pinnacle partner with bestselling author Jonathan Maberry (Rot & Ruin, Dead of Night), to launch a line of Deadlands novels. The first, Ghostwalkers, goes on sale later this month from Tor.
Welcome to the Deadlands, where steely-eyed gunfighters rub shoulders with mad scientists and dark, unnatural forces in the Weirdest West of all. Where the Great Quake of 1868 has shattered California into a lawless labyrinth of sea-flooded caverns… and a mysterious superfuel called "ghost rock" sparks as much greed and bloodshed as it does miraculous new machines and weapons of destruction.

Grey Torrance is a hired gun literally haunted by the bloody specters of his past. Heading west with no particular destination in mind, he joins forces with a brilliant Sioux scientist to defend the struggling town of Paradise Falls from a diabolical madman out to take over the entire territory… and build an army of the living dead!
It's about time the market realized the potential of this great setting. Anything that gleefully mixes steampunk, zombies, RPGS, and the Weird West is A-OK in my book.
Deadlands: Ghostwalkers will be published by Tor Books on September 22, 2015. It is 480 pages, priced at $15 in trade paperback and $9.99 for the digital edition. The cover art is by Aaron Riley.