July – September 2015 Mythic Delirium Now on Sale
July – September 2015 Mythic Delirium Now on Sale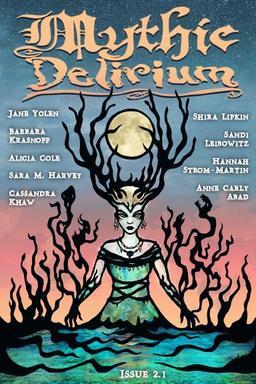 Mythic Delirium 2.1, the July-September 2015 issue, is now on sale.
Mythic Delirium is an online magazine of fiction and poetry edited by Mike Allen (The Black Fire Concerto), who's also the editor of the popular Clockwork Phoenix anthologies. Here's Mike's report on the issue from his editorial, with some great news on the latest installment of Clockwork Phoenix:
Welcome, readers, to the third year of Mythic Delirium's second life.

We have fantastic fantastical fictions awaiting you in this issue, in which vampires and otherworldly beings consort in the circles of high fashion, witches swoop in from the sea to right ancient wrongs and fates hang on the outcome of a game of chess between opponents a century apart.

Our verses for this issue expand the otherworldliness, adding new chapters to the tales of Oz and The Tempest, granting new coats to villains and secret lives to cabinets, discovering new senses and working hearts.

It's a wonderful way to celebrate, and boy, are we celebrating here at Mythic Delirium Books!

In May, Anita and I launched a Kickstarter campaign to reignite our flagship anthology series, and thanks to a moving show of support from the speculative fiction community and the incredible generosity of our backers, Clockwork Phoenix 5 is alive!
Here's the complete table of contents for Mythic Delirium 2.1.
Myths and Delusions – Editorial
"The Sound of Blue," by Sara M. Harvey
"The Perfumer," by Alicia Cole
"Ariel's Release," by Sandi Leibowitz
"Her Pound of Flesh," by Cassandra Khaw
"The Villain's Coat," by Hannah Strom-Martin
"The Secret Life of Cabinets," by Anne Carly Abad
"Sophia's Legacy," by Barbara Krasnoff
"Four Chambers," by Shira Lipkin
"Dorothy Before Oz," by Jane Yolen
See the complete July-September 2015 issue here.
Mythic Delirium is edited by Mike Allen, and published quarterly in Mobi, epub, and PDF format by Mythic Delirium Books; issues are also for sale through Amazon, B&N, and other fine outlets. Individual issues are $2.99, a 4-issue subscription is only $10; they also accept donations. Learn more at their website.
The cover this issue is by Paula Arwen Owen.
Our mid-August Fantasy Magazine Rack is here. See all of our recent fantasy magazine coverage here.