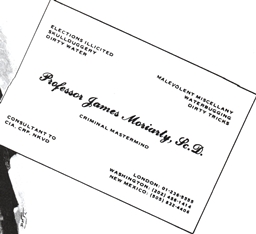 Perhaps my favorite Sherlock Holmes pastiche is 1974's The Return of Moriarty by John Gardner. In it, Professor Moriarty (who did not perish at the Reichenbach Falls) is a Victorian Era godfather, with a criminal organization the envy of the American mob in the Roaring Twenties. A sequel followed it the next year, The Revenge of Moriarty. The trilogy was completed with Moriarty, just a few weeks before Gardner passed away in 2008.
Having completed one muddle of a screenplay about a Civil War naval battle, I took it upon myself to contact John and tell him I was writing a pilot for a proposed TV series about The Return. Extremely polite and friendly, he told me to send it to him when I was done. I did. He and his agent, less than impressed with this amateur effort from a self-taught screenwriter, understandably, passed.
I stayed in email contact with John (who was always nice) up until his death, taking one serious stab at revising the pilot and expanding it to two-hours. I never did resubmit it to his agent (John having passed away by then).
So, read on about The Moriarty Chronicles, a British TV series you, alas, will never see.
---