The Fate of Intelligence: Chad Oliver's The Winds of Time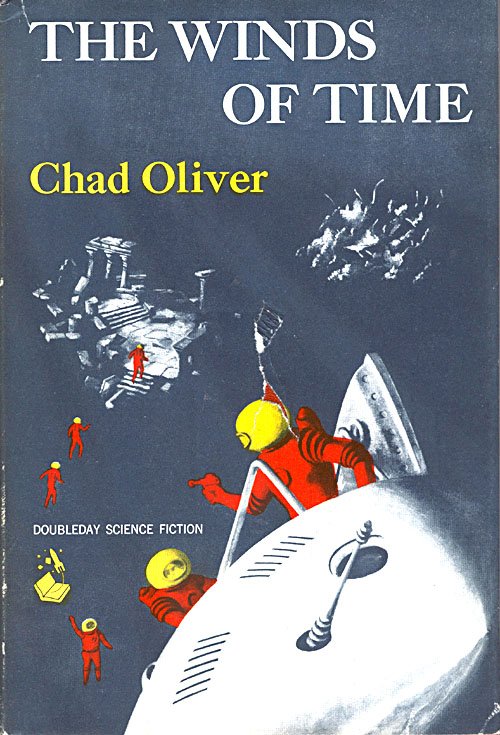 The Winds of Time by Chad Oliver; First Edition: Doubleday, 1957.
Cover art Dick Shelton. (Click to enlarge)
The Winds of Time
by Chad Oliver
Doubleday (192 pages, $3.95, hardcover, April 1957)
Cover art Dick Shelton
This science fiction novel from 1957 is by an author known for anthropologically informed works (Wikipedia; SFE). He was an anthropologist himself, and thus one of the few science fiction writers who was also a scientist.
Oliver published nine novels from the early 1950s into the 1990s, not all of them SF. His work is currently in print only through several titles in the UK Gateway line and in three omnibus volumes from NESFA Press.
The present volume is currently available as a Gateway e-book (not listed on the SF Gateway page linked above), and in a 1997 omnibus of three "time travel" novels for White Wolf/Borealis, Three in Time, edited by Jack Dann, Pamela Sargent, and George Zebrowski, which is currently available on Amazon. I note this because generally I try to cover in these reviews only books that are readily available in some current, unused edition, and the last title serves to qualify this Oliver novel. (Though I broke this rule with my look back at Silverberg's Collision Course a few months back.) In any event, I think it's fair to say that Chad Oliver, while still remembered, isn't remembered as among the Great SF Authors of all time, or even of the 1950s. Yet this novel is interesting nevertheless for its display of the standard SF furniture of the 1950s (as I discussed with Silverberg's novel), and also for its anticipation of the quandary behind Fermi's celebrated Paradox.