The Great Serialization Experiment: Don't Kill Your Reader – Eat a Cookie Instead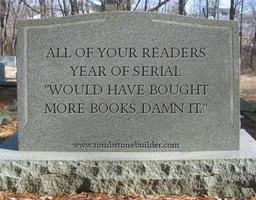 Remember, Kids: A Dead Reader Is A Non-Purchasing Reader
Here we are, last post of this series. Thanks for sticking around! Check out the first two parts if you haven't yet: The Lay of the Land and Attack on Multiple Fronts.
The Mad Science
Ah, the eternal question: To plot ahead, or to write by the seat of your pants? I like to strike a healthy balance between planning and OMG WHY DID I THINK THAT CAPTURING MY NEIGHBOR'S PETUNIA GARDEN WOULD BE SIMPLE AND WHY DIDN'T I STUDY THEIR SQUIRREL DEFENSE GRID MORE THOROUGHLY FIRST??? I seriously still wonder about that one, as do my scars. I enjoy a combo of planning and flying by the seat of my squirrel-shredded pants is what I'm saying, in case that was a bit much on the cap locks.
This is what I did for Nigh, but I already had two published trilogies by the time I wrote it, so I had some idea of how I draft best (hint: very caffeinated). I didn't have book 5 written when book 1 came out, but I had my plan. A thin little plan full of hunger and pain, but a plan nonetheless. I focused on arcs (skeleton) and promises (muscles and organs), and then tacked on the skin as I wrote.