A Bittersweet Twist on Conventional Fantasy: Every Heart a Doorway, by Seanan McGuire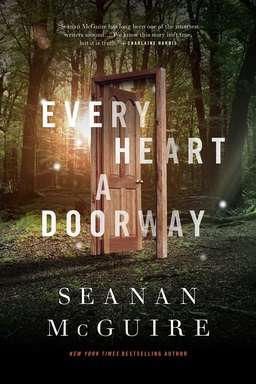 The closing months of the year always bring a host of "Best of…" lists. This year I was delighted to see one of my personal top five making those lists: Every Heart a Doorway by Seanan McGuire. A departure from McGuire's usual fare, Every Heart a Doorway is a bittersweet twist on conventional fantasy that neither shies from more dwells on the darker side of our encounters with the fantastic.
The premise of Every Heart a Doorway isn't exactly new. Out in the countryside exists a boarding school for unusual children.These children are all children living in the "after" part, the "after" that comes after The End. Each student at Eleanor West's School for Wayward Children has accidentally stumbled into an otherworld and then returned home to find themselves so changed that they can no longer fit in at home. Some of them are heartbroken at being kicked out of paradise. Some of them are traumatized by what they experienced there. Most of them hope to return to their individual worlds, somehow, by finding their Door again.
We find our own Door into this school through Nancy, a young woman who has just returned from one of several Lands of the Dead. Shortly after her arrival, another student is found dead and Nancy, along with her newly made friends, must find the killer before the school is closed or they become the next victims.
As a murder mystery, the plot itself isn't innovative. It is well plotted and paced, but there are no real surprises here. It doesn't need to be, though. The real strength comes from McGuire's characterizations and the subtle, quiet tone to the work.